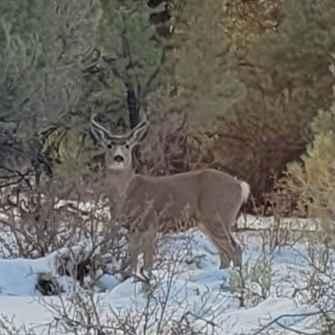 8
Trail Overview
Big Buck Meadows Trail follows the power line service road for about 1.5 miles. This portion of the trail consists of a single vehicle-wide trail with a few easy hairpin switchbacks. Ascending about 800 feet to an elevation of 7,211 ft. the trail surface is mostly packed gravel. As the road quickly ascends, there are vistas of Pinion and cedar trees. The trail takes you to the heart of the Pine Nut Mountains where the Pinion Trees can live to be 600 years old, so Thread Lightly. At about 2.25 miles the trail descends to a small valley of grassy meadows, sage, and pine trees. There are some short sections of mud on the trail when the trail is wet. At about 4.5 miles in, the trail meanders through the trees and pin stripping (paint scratches caused by limbs) is likely. The trail cuts across the grassy meadow where a spring is located then returns to Sunrise Pass Road.
Difficulty
This is a poorly maintained service dirt 2-track road. Safe for most high-clearance all wheel drives and 2WD truck and SUVs. The trail is unmaintained after rain or snow. Spring and winter shallow water crossings could be encountered. The wide road is not off-camber. A few tall stones and obstacles under 6" can be easily avoided. The road is not rutted and elevation changes are gradual with no ledges.
Status Reports
There are no status reports yet for this trail.