Hunting Weather Forecast & Wind Direction in onX Hunt App
Experience weather at your fingertips from within the onX Hunt App.
We all know weather is a core aspect of the hunting season. We spend the days before a hunt stalking through weather reports, watching changing patterns and trying to gauge what camo to pack and what the animals may be doing.
Here at onX, we believe in the power of weather—and so we're proud to announce the arrival of our new Wind & Weather feature in the onX Hunt App. Enjoy live weather reports, weather forecasts, wind direction, sunrise / sunset times and barometric pressure—all curated within the onX Hunt App to keep everything you need in one convenient place.
This new feature is something users have been asking for—you spoke and we listened. And it's a free feature, added to the App at no extra cost to you.
How to Use Wind & Weather
Tap the button in the lower right corner to display temperature, weather, wind direction and speed. The units used will be Miles Per Hour and Degrees Fahrenheit; metric units are not available at this time.
Wind and Weather conditions will be displayed at the locations of NOAA weather stations around the country. As you zoom in, more stations will become visible, showcasing both wind direction and speed, as well as temperature and weather.
The circle icon with two dashes icon indicates the station is not currently reporting.
As you move around the map, weather from the closest station will be displayed in the lower right corner of the screen. The station currently being accessed will be highlighted on the map.
You can tap any station on the map to lock the weather button to that station. A rectangle will appear at the bottom of the screen with additional information reported by the station, including: the name of the station, distance from your location, sunrise / sunset, and barometric pressure.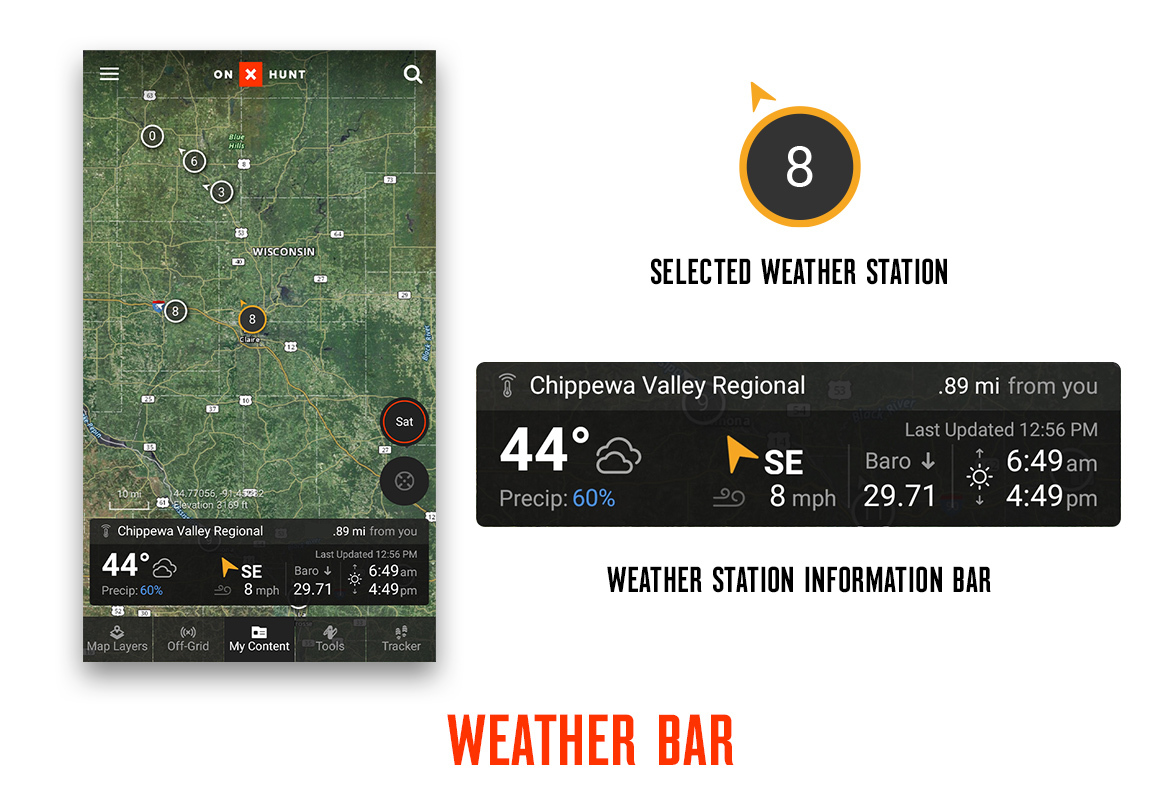 The display in the lower right corner will be locked to the station you select until you turn the weather display off. Turn the weather display back on to reset the button to the closest station to your location.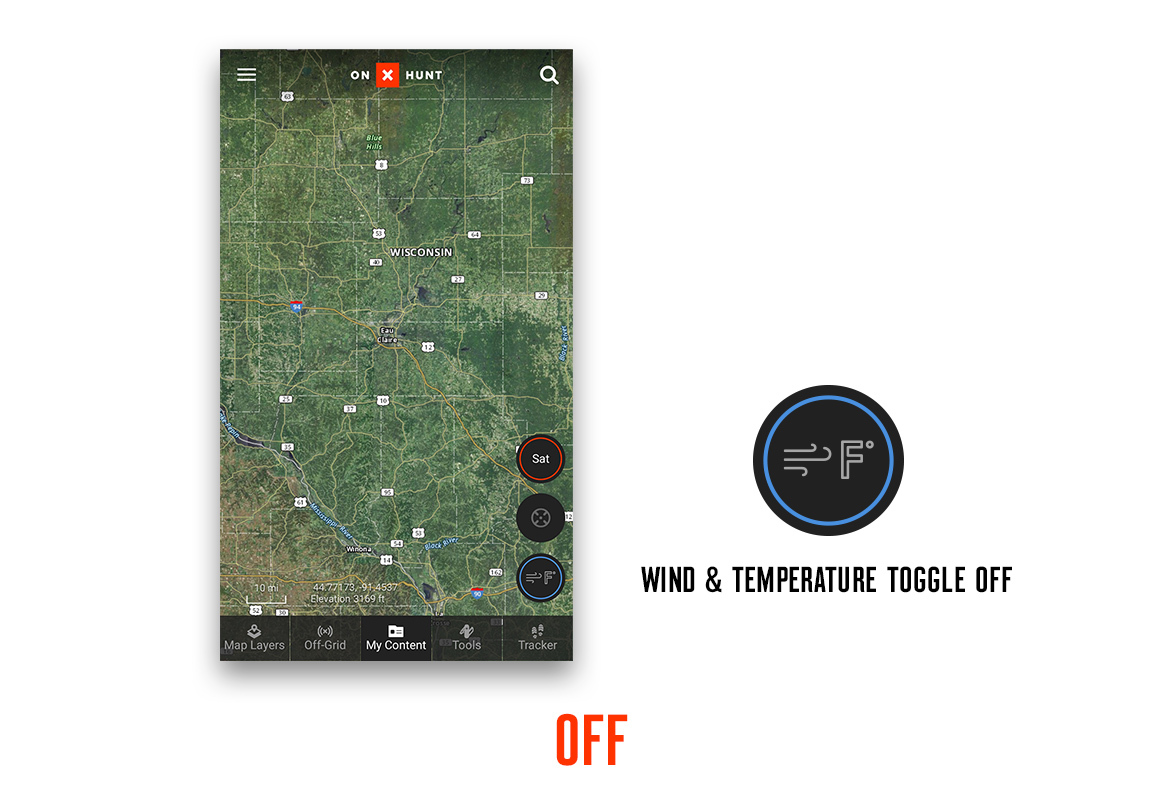 Wind Direction and Speed
Wind speed is indicated by the number inside the yellow circle. Wind direction is indicated on the wind/weather button in the bottom-right corner of the screen, and on the map by the yellow arrow around the edge of the circle.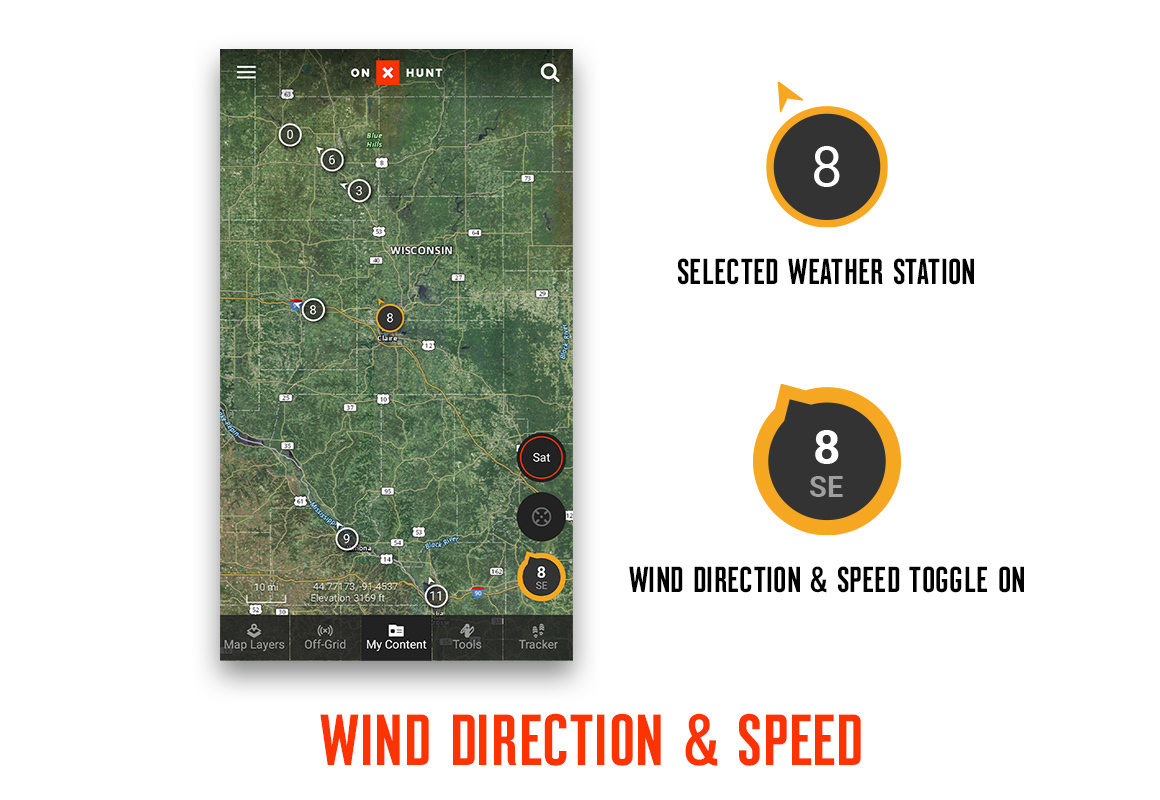 Temperature and Weather
Temperature is indicated by the number inside the green circle. Weather conditions are indicated by the image above the temperature reading in the green circle.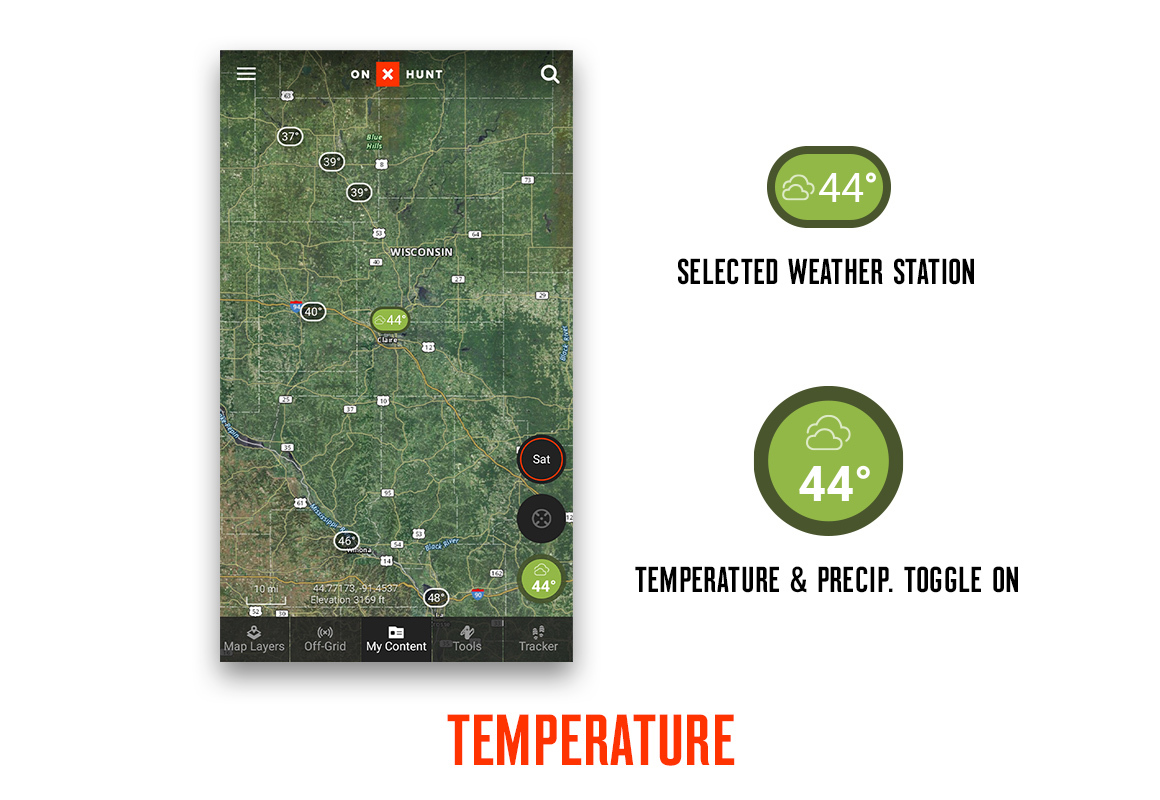 Want more information? Visit our Wind & Weather support page for step-by-step instructions.
---
Weather at Your Fingertips
Enjoy live weather reporting and forecast information at your fingertips. Gauge wind direction, monitor sunrise / sunset times and watch barometric pressure change—all from your favorite hunting spot.
Click here to learn more about NOAA weather stations.
header image: Jess DeLorenzo