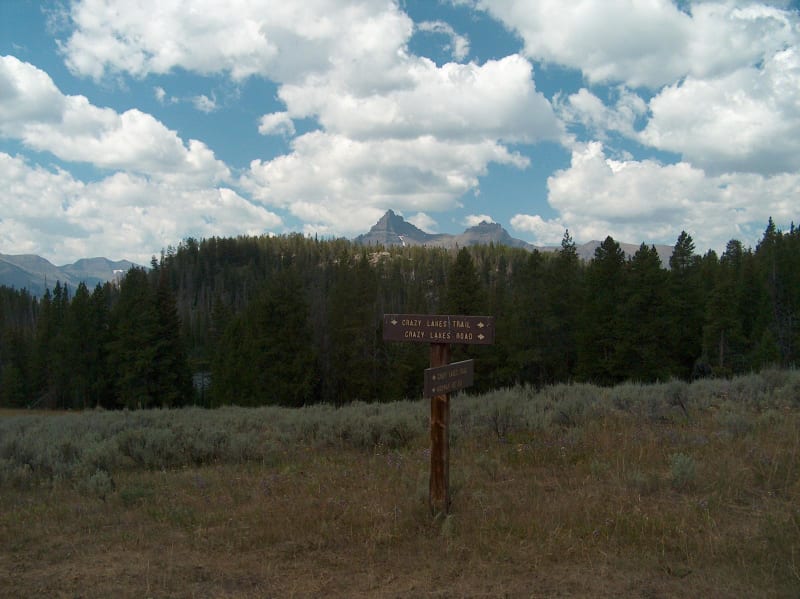 10
Trail Overview
The Crazy Lakes Road travels through a beautiful, remote area near the Wyoming-Montana border. The main route, Crazy Lakes Road, leads to the Absaroka Beartooth Wilderness boundary while short side spurs can be driven to reach Lily Lake, Little Moose Lake, and the area's primitive dispersed campsites. The road constantly changes as it cuts through sagebrush, marshes, and pockets of both burned and live timber. In the clearings, there are good views of the area's most distinguishable landmarks: Pilot Peak and Index Peak. Where the road bores through forests of thick evergreens and berry shrubs, you'll find more challenging driving with rocks and mud. There is also a crossing of Gilbert Creek that usually flows about a foot deep in the summer. Motorized travel is prohibited from the end of the road, but a foot trail continues a half mile through a young forest to reach Ivy Lake, one of several high lakes collectively named Crazy Lakes.
Difficulty
When dry, this is an easier 4x4 route. When wet, traction can be an issue, especially on the steeper grades and near a stream crossing. There is a potential for downed timber on the trail. Rocks and roots in the timbered areas make for a bumpy ride.
Get the App
Find Off-Road Trails
Unlock more information on Crazy Lakes.