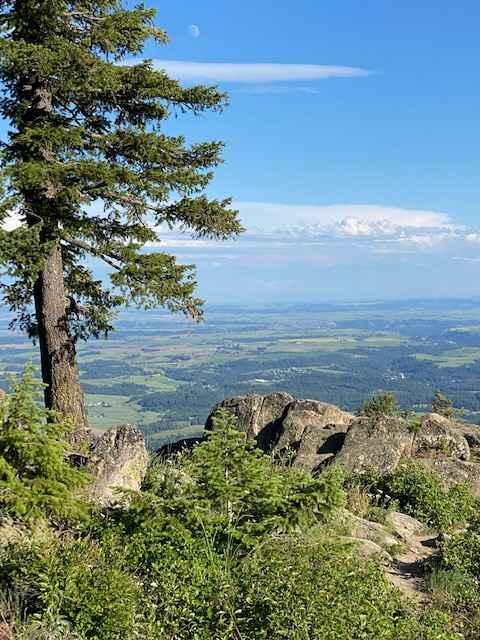 9
Trail Overview
This is a short but fun ride up to the Moscow Mountain lookout, which resides on the East Summit of Moscow Mountain. This trail is mostly dirt, with the first several hundred yards made up of large 2" gravel rock. This trail is relatively wide for a good portion before turning to a narrow two-track near the summit. The trail is not regularly maintained, so expect some brushier portions, and down trees cut just wide enough to pass by. You will follow the trail to a stunning viewpoint that overlooks the greater Palouse - and on a clear day, you can see the seven devils and Wallowa mountains. The lookout is aptly named as it was the site of a fire lookout tower up until the 1980s, when the tower was torn down. The first half of this trail runs through a section of private timberland that is open for public access and then transitions to public land owned by the State of Idaho - please obey all closed gates and restrictions to continue the privilege of access to this beautiful location. The gate of this trail is generally closed from November-June but varies based on weather conditions; there are often restrictions to access during fire seasons. Before you reach the top, there is a shaded picnic area with tables and benches just off the main trail.
Difficulty
very easy trail, not very technical. Would be rough in a high clearance vehicle as this trail is not graded or maintained much at all.
History
This trail leads to what was once home to a fire lookout tower. The location was developed in 1934 with a 40 foot wooden tower at the east summit (where this trail leads). The following year a 74' steel tower was built atop the west summit - this tower was moved to the east summit in 1954 to replace the wooden tower. The steel tower was then removed in 1981. If you do some exploring around the site you can still find the concrete footers where the guy-lines were connected to support the tower. The scenery is amazing at this location, on a very clear day you can see as far as the seven devils.
Technical Rating