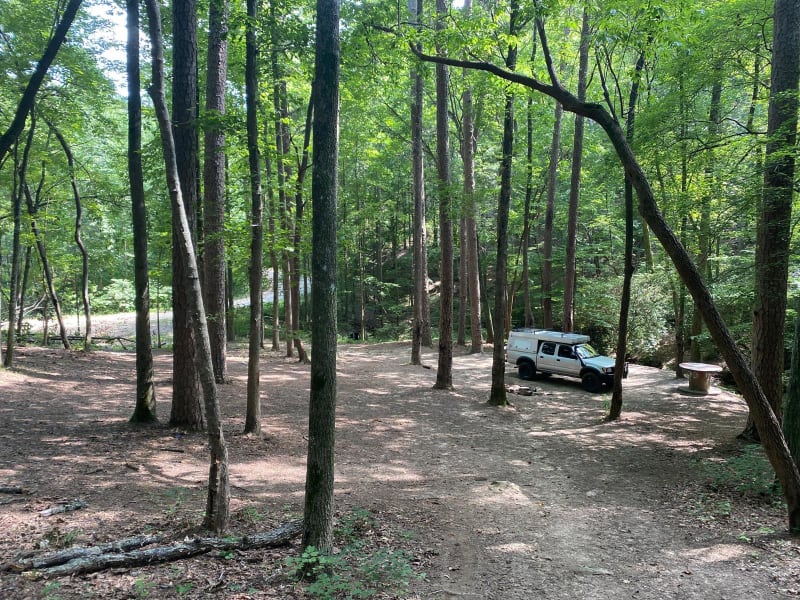 4
Trail Overview
Brown Bottom Road is located in the center of a section of the Chattahoochee National Forest outside of Cornelia, GA. This road is wide, covered in large gravel and wide enough for two vehicles to pass in most sections. However, it's important to remember safe driving practices due to some steep curves. There is always a possibility of downed trees, and portions of the road that are packed clay. Brown bottom weaves through some densely forested areas, and some recently logged portions. Along the way, small creeks run alongside the road, and there are several large, dispersed campsites along the route. Two of them would easily accommodate four to five rigs with plenty of flat areas to park or place tents. When traveling in a group, remember to practice leave-no-trace ethics, as the impact to an area is greatly multiplied. The Middle Fork of the Broad River passes by the southern terminus of the road where it meets Guard Camp Road. This waterway offers fishing opportunities, and some nice spots to wade or swim when the Georgia summer is in full swing. There's also a hiking trail on the east side of the river that follows it for several miles upstream. While this area doesn't have any particularly challenging sections or big views, it's a nice spot to grab a secluded camping spot in the region.
Difficulty
The road appears to be well maintained and often traveled. Any weather conditions outside of massive flooding could change it enough to be impassable in a stock 4x4.
Get the App
Find Off-Road Trails
Unlock more information on Brown Bottom Road.