Psycho Ranch Turnout
Best Time
Winter, Fall, Spring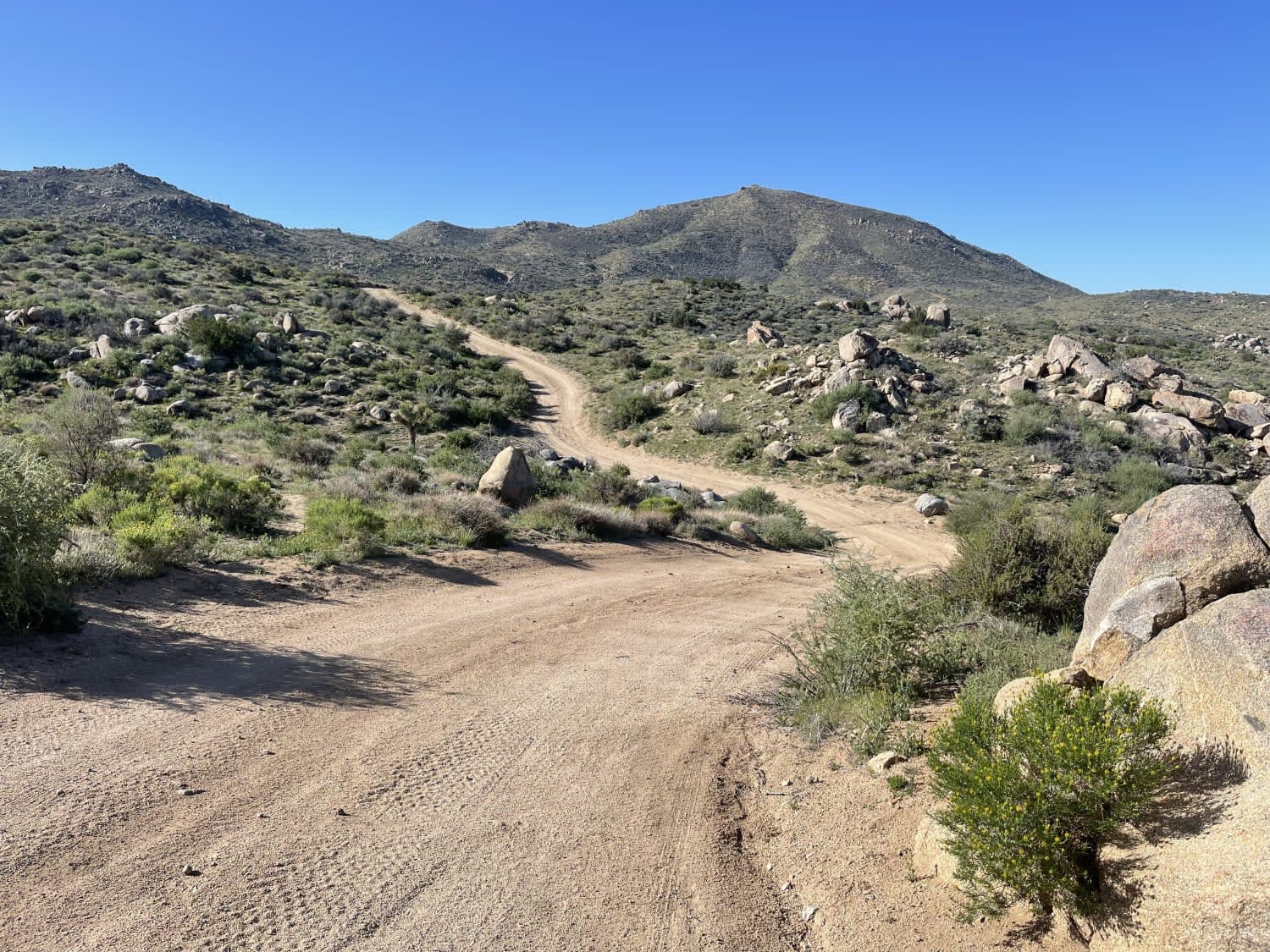 11
Trail Overview
This trail tears off from the main route of Coxey into the hills. There are a few singletrack turnoffs for those looking for some adventure. There were no natural camping spots noticed on this route. There are, however, two pretty decently long steep hill climbs with some loose rocks to add to the challenge. The trail ends at the turn to the left to private Pysco Ranch or continue on singletrack or down towards round mountain. We decided to take the easy way down to Oak Springs. There were 2 bars 5G cell service.
Difficulty
This trail is generally easy aside from the two long loose hill climbs.
History
Juniper Flats covers 101,272 acres of mixed public and private lands. Located between the Mojave Desert and the forests of the San Bernardino Mountains, Juniper Flats hosts a unique mixture of plants from both environments. Its streams and wetlands attract many kinds of wildlife. No less impressive are the beautiful views and varied landscape that make Juniper Flats a favorite recreation destination year-round.Visitors to Juniper Flats enjoy excellent recreation opportunities, including camping, hiking, backpacking, horseback riding, mountain biking, and hunting. Off-highway vehicle (OHV) touring is restricted to a designated route system (see numbered routes on map).Routes not marked as open are CLOSED to all motorized vehicles. "Technical" or cross-country (off-route) OHV activities are not allowed in Juniper Flats; please use the nearby El Mirage, Johnson Valley, or Stoddard Valley OHV areas. Juniper Flats is part of a public trail network that connects the San Bernardino National Forest with Victor Valley OHV areas to the northwest. Camping and PicnickingDispersed camping and parking are allowed in areas that show obvious signs of prior use and lack of vegetation cover, that is within 300 feet of a designated open route, and that are at least 200 yards from wildlife watering places. Camping in any one location is limited to 14 days. Please obtain permission before entering private land. Fire permits are required and may be restricted in the fire season (May - October). Fire danger is extreme during most of the year.
Technical Rating