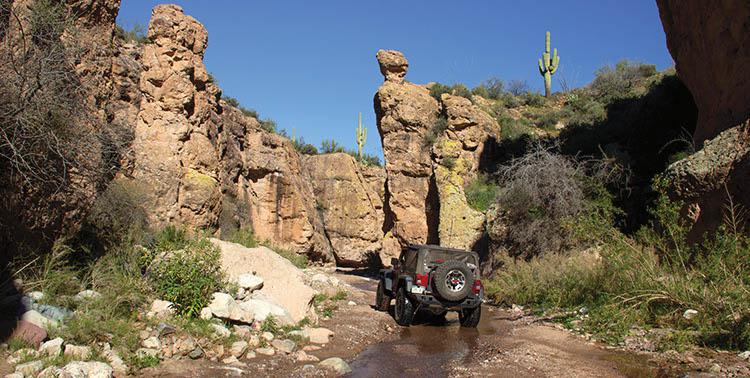 5
Trail Overview
If you are looking for a remote ride with great points of interest, this is it. Enjoy beautiful mountain views and visit Bradshaw's Grave and an old homstead at Copperopolis Townsite. You can return the way you came or take the new exit route. Explore the trail in reverse by starting from Lake Pleasant. Unlicensed vehicles allowed.
Difficulty
Difficult: We previously rated this trail moderate, but conditions have gotten worse due to washouts in sandy canyon bottoms. New exit route was not difficult when we drove it, but this route is prone to damage from flash floods. Don't go if heavy rains are forecast. Aggressive SUVs with high clearance can do it unless new damage occurs.
History
Issac Bradshaw, namesake to the Bradshaw Mountains, died in 1886. His grave has been well maintained over the years and is easy to find, marked by a white picket fence. Little is known about Copperopolis, except that it had a post office in 1884 and lasted about a year. The mine can be seen across a ravine on a hillside east of the stone cabin.
Status Reports
Luigi Massicotti
Nov 27, 2023
Rough/Deteriorated
Washboard
Gardner James
Oct 21, 2023
Cristi Dorsch
Aug 30, 2023