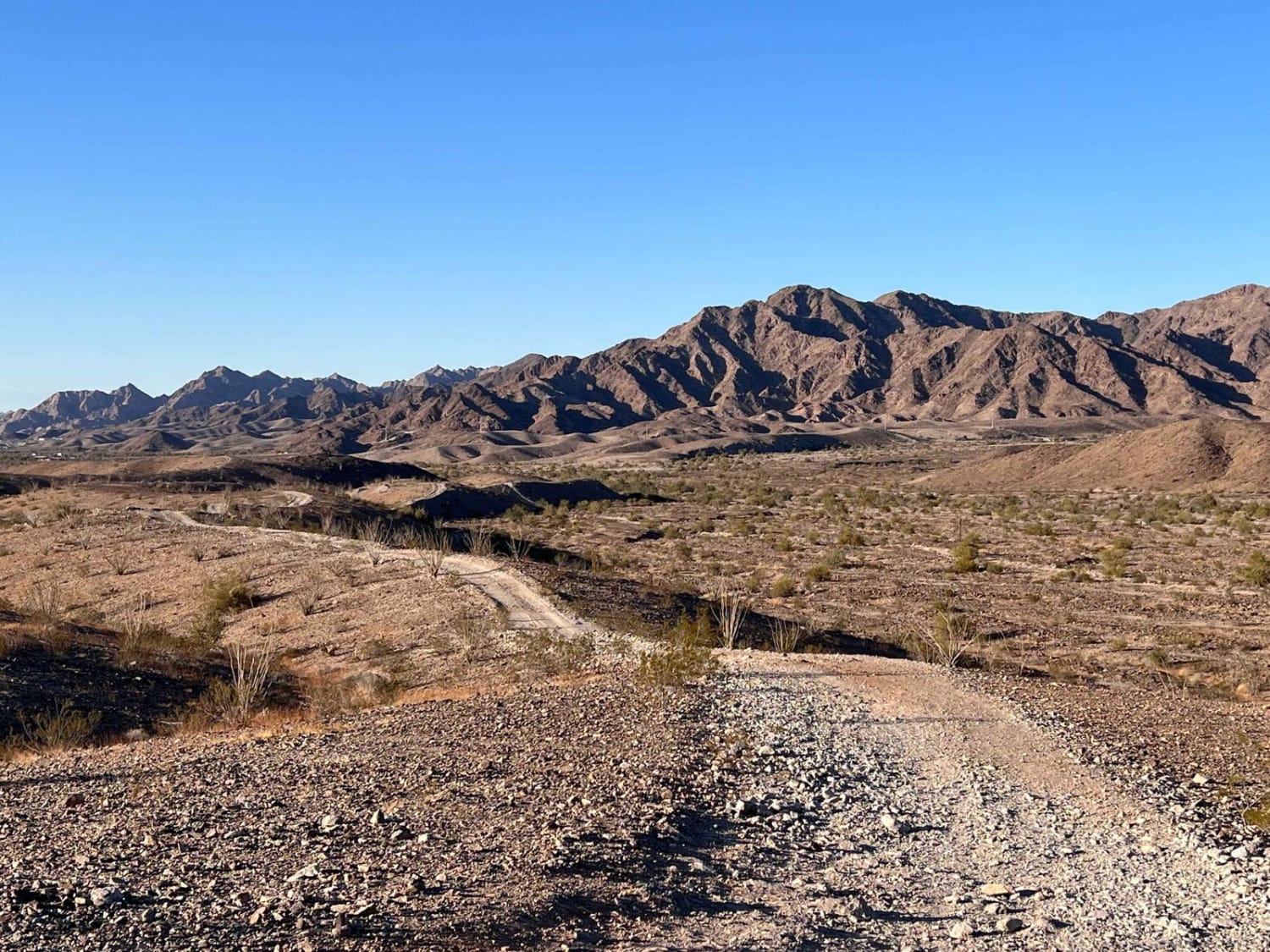 20
Trail Overview
This trail is an excellent access point up into the hills and the network of trails in the area. It's a popular hiking area with dogs, so be on the lookout for furry friends running around. There are quite a few options to get into the hills, and one should use caution with some selections. They have very steep off-camber tractions and long loose climbs. This route is a relatively easy way into the hills, with only a few steep loose challenges on the way. The trail ends at the hiking trailhead for Jesters Trail, and there is plenty of parking. For more of a hiking challenge, one can park further away. There is plenty of Verizon's LTE on the way up. Be sure to bring lots of water and let someone know you are going. The desert can be a dangerous place when not prepared. The end of the trail and summit is designated with an American Flag, which stands tall' looking over the Foothills. At the summit, there is a beautiful 360-degree view of the Yuma area. On a clear day, the Mohawk and Muggins Mountains, Dome Rock, Picacho's Peak, and Barry Goldwater Air Force Range are all visible from the top. The lights from the Foothills, Yuma, Dome Valley, Somerton, and San Luis are also visible in the twilight hours. In addition to the great view, you may also find a geocache on the summit. Geocachers use the internet and global positioning systems (GPS) to hide and find geocaches, usually waterproof containers that house a logbook and an inexpensive treasure. The protocol is to leave something if you take something from the cache. Lastly, be aware that the Barry M. Goldwater Air Force Range is just south of the trail and requires permits for access. Therefore, stick to the trail, tread lightly, and have a great hike.
Difficulty
Expect steep narrow ridge sections.
History
The trail was named after Dr. Lester "Jester" Olin, a local physician, an avid hiker, and a trail volunteer who was instrumental in the trail's development and maintenance. In addition to being a founding member of Yuma Trails Incorporated, a non-profit organization that provides and maintains diverse recreational trails for the greater Yuma community, Dr. Olin also led trail crews who worked on the Pacific Crest and Appalachian Trails.
Technical Rating