Witch Dance Hill
Best Time
Spring, Summer, Fall, Winter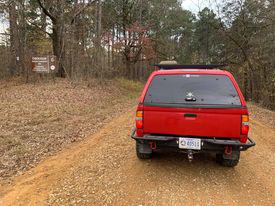 5
Trail Overview
This trail is an old gravel road. Nothing technical, but offers peaceful scenery. There isn't a lot of traffic, so you can take your time. This road runs through the Tombigbee National Forest.
Difficulty
This is 100% maintained gravel road.
History
The very name conjures visions of eerie midnights, swirling black capes and brooms stacked against a nearby tree. The old folks say the witches gathered here to dance and wherever their feet touched the ground the grass withered and died never to grow again. Look for a hidden spot where no grass grows.
Technical Rating