Anniversary
Best Time
Spring, Summer, Fall, Winter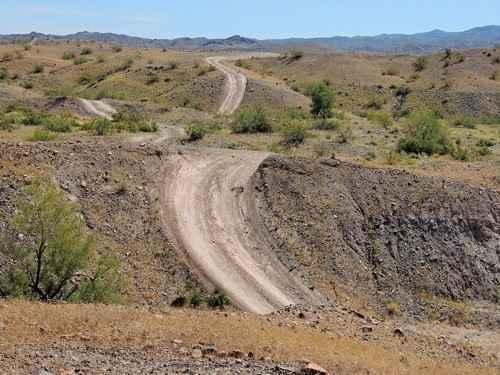 8
Trail Overview
This is a GREAT 6-rated trail. There are steep loose hills, off-camber situations and a number of "where's the road?" pinnacles along the way. Throw in some expansive scenery as a bonus. Probably not a good place for a brand new Jeeper. The trail is safe enough if you take the right lines, but the wrong ones can get you in trouble. A newbie might make a foolish mistake. The trail can be run in any direction but we did it starting at Bison Boulevard and ending at Challenger Drive in Lake Havasu City. Arrows show our route on the map. There are many steep, loose hills that keep your attention on this run. There are also many steep pinnacles where you cannot see the road ahead until you drop down the other side. I was always asking "Where's the road?" A miscalculation on one of these could be a problem. There are views of Lake Havasu along much of the trail. This one is shortly after we started. Look at the map of this trail and you will see it heads south-southeast in a nearly straight line. This straight part is following a powerline. The first portion of this is fairly rugged terrain. The terrain changes at the southern end of the powerline and offers great open views. Turn north and start to climb as the trail leaves the powerline. Be very cautious on Tipover Turn! It is a very innocuous appearing turn on top of a hill, but if you turn too soon you WILL tip over! The secret is to drive as close to the dead tree as possible then turn straight down the hill. If you turn too soon you will be sideways on the hill... flop. After Tipover Turn you will spend time in and out of a wash. There are a couple of climbs out of the wash, one of which bypasses "No Name Waterfall". This is a good extra credit for well-equipped Jeeps. Intersect a heavily used trail and turn south toward home.
Difficulty
Very rocky, rutted and off-camber trail with erosion, loose rocks, sand, washes and obstacles up to 3 feet tall, including ledges and short, steep grades. Potential for deep water crossings with strong currents.
Status Reports
There are no status reports yet for this trail.