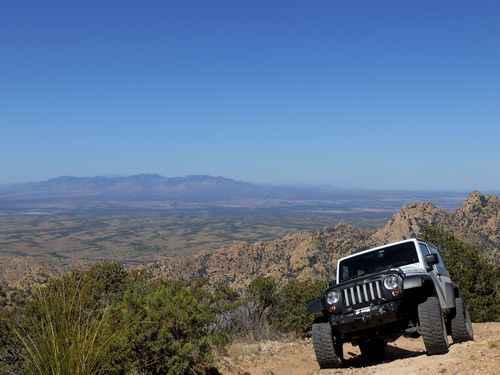 5
Trail Overview
The Abril Mine is an old zinc and copper mine located high on the western slopes of the Dragoon Mountains in southeastern Arizona. The Middlemarch Road is a passenger car road from Tombstone well up into the Dragoon Mountains. The road to the mine is not suitable for cars but is a fairly easy Jeep trail. Views from the high ground are great. There is a reasonably wide shelf road approaching the mine. The mine is at the end of the road and there is room to turn. Walk a very short distance and look for an open mine on the right.
Difficulty
Uneven, rutted dirt trail with loose rocks, sand, erosion, and washes. Potential water crossings up to a foot deep, mud holes, and obstacles up to 18", including ledges and short, steep grades. Roads are typically one vehicle wide with places to pass.
History
Lynn Bailey's Book "Mines, Camps, Ranches, and Characters of the Dragoon Mountains" has a good description of the history of the mine. According to Bailey, the mine's name came from two Abril brothers who took over the claims in the area in 1915. Apparently, little work other than assessment work was done until the 1930's when production from the mine really commenced.Production peaked in the years from 1946 to 1950 when 30,000 tons of bornite(copper) and zinc ores were shipped to a custom mill in Bisbee. By 1953, the mine was pronounced exhausted. But in the early to mid 1960's another operator shipped approximately 40 tons of copper and zinc ore.
Technical Rating