Oklahoma Hunting Maps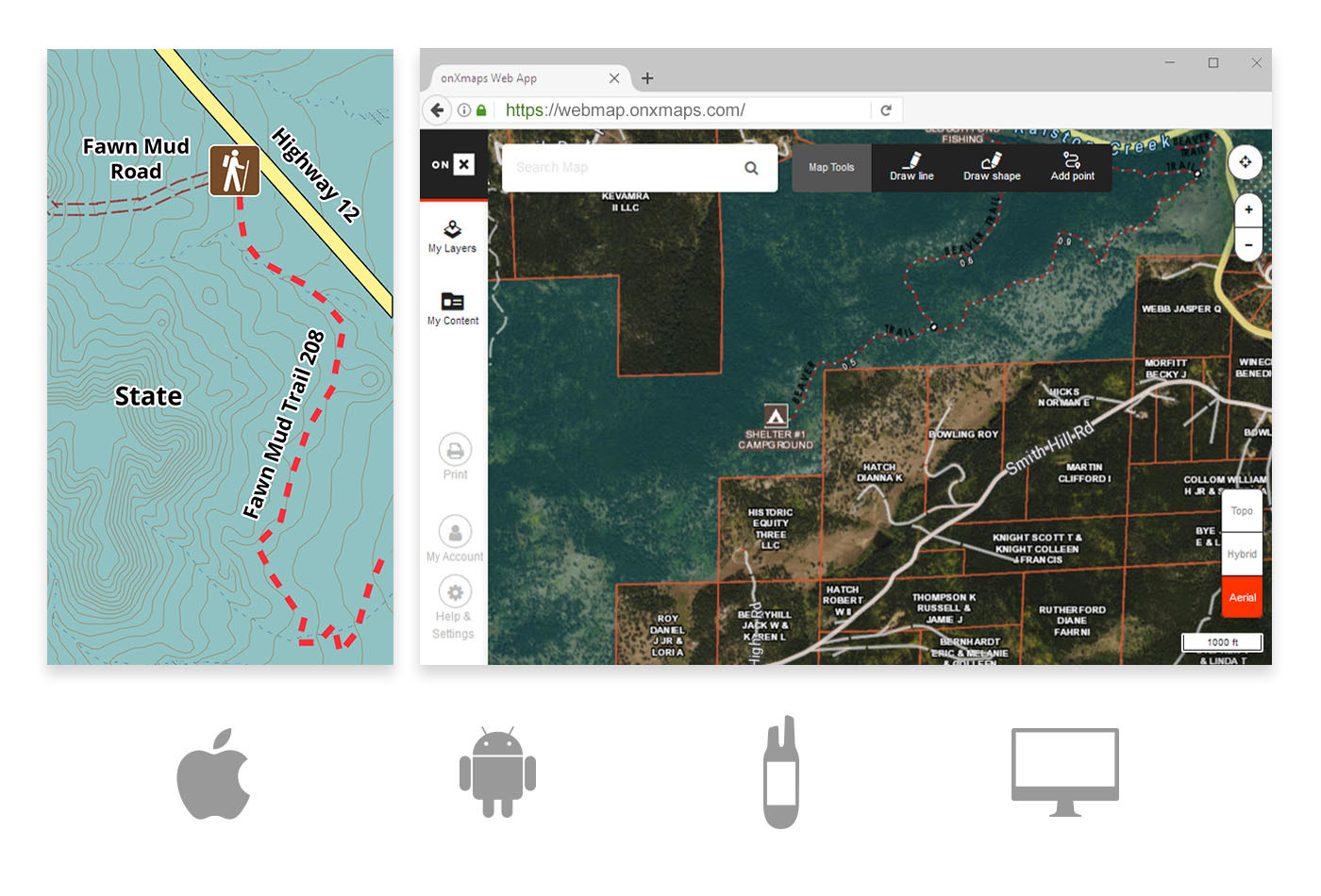 Find new access and view hunting zones, wildlife management areas, private property and more over 24K topo basemaps for the most accurate map available on Garmin GPS.
Landowner names & boundaries

Color-coded public lands

Roads & trails

Most up-to-date Hunting Districts

Hunt App Membership included
Map details
Private landowner names, boundaries, and tax address
Public lands—federal, state, county, local and non-profit
2018-19 Deer Hunting Zones
2018-19 Fall and Spring Turkey Zones
Possible access lands
Roads, trails and trailhead names and numbers
Point of interests—geographic and recreational
Water—rivers, creeks and lakes
Campgrounds
24K topo
Section lines and numbers
Fishing access locations and boat ramps
Recreation sites
Much more
Full solution Membership
Purchase of the Hunt Chip also includes the use of the Hunt App for 1 year, along with free Hunt Chip Updates. Turn your smartphone or tablet into a powerful field-use GPS with no cell service required.
Map updates
Already own a Hunt Chip? Download the chip update wizard to install the latest maps.
Version 18.0 Released on Oct 1, 2018
Updated land ownership statewide
Improved parcel coverage in the following counties: Adair, Garvin, Muskogee, Washington
Updated public lands statewide, including State Parks and Wildlife Management Areas
Indicated state lands that have restricted public access (Common School Fund Lands) at the request of Oklahoma Department of Wildlife Conservation
Updated Deer Hunting Zones to 2018-19 regulations
Updated Fall and Spring Turkey Zones to 2018-19 regulations
Removed Oklahoma Land Access Program (OHAP) lands at the request of Oklahoma Department of Wildlife Conservation.
Added shooting ranges throughout the state
Version 17.0 Released on: Oct 9, 2017
Updated parcel data in Texas County (partial)
Added Oklahoma Land Access Program (OLAP) Hunting Areas from the 2017 season
Added Fall and Spring Turkey Zones from the 2017-18 regulations
Updated Deer Hunting Zones to 2017-18 regulations
Version 16.0 Released on: Mar 15, 2016
Now has searchable land ownership capability
Updated Deer Hunting Zones
Updated land ownership statewide
Added parcel data to the following counties: Carter, Delaware, Washington (partial)
Added dotted parcel lines to indicate interior divisions of properties
Created a unique color code for State Parks, State Forests, State Fish & Wildlife, State universities, local parks, Corps of Engineers, Dams
Updated 24k topo
Highlighted more possible lease access on corporate-owned timberlands, including Forest Investment Associates, John Hancock and the Green Bay Packaging Corporation. Also highlighted public WMA access on some of these lands
Highlighted more non-profit lands with public access such as the Edmond Land Conservancy
Improved transportation network to symbolize different road types appropriately, and differentiated major city streets and county-level highways
Many improvements to geographic names include showing more city and town names at scale ranges appropriate to their size, as well as more intuitive depictions of landscape features
New point of interest icons for campgrounds, trailheads, picnic areas, cabins, springs, fishing accesses, and many more!
Improvements to water features to make them more visible and show them at appropriate scale ranges
Added bathymetry to many lakes throughout the state!
Land ownership coverage
Land ownership coverage
Our parcel coverage map lets you know at a glance which states and counties we have private land owner data for in our products. Due to differing state regulations and availability of data, we currently do not have complete coverage for every state and county. However, if a state or county makes the parcel data available, we make every effort to include it in future updates.
Use the buttons below to toggle between Hunt Chip and Hunt App parcel coverage layers.
Legend
- Full coverage
- Partial coverage
- Property boundaries
- Public lands only
- No coverage