North Dakota Hunting Maps
North Dakota Hunting Maps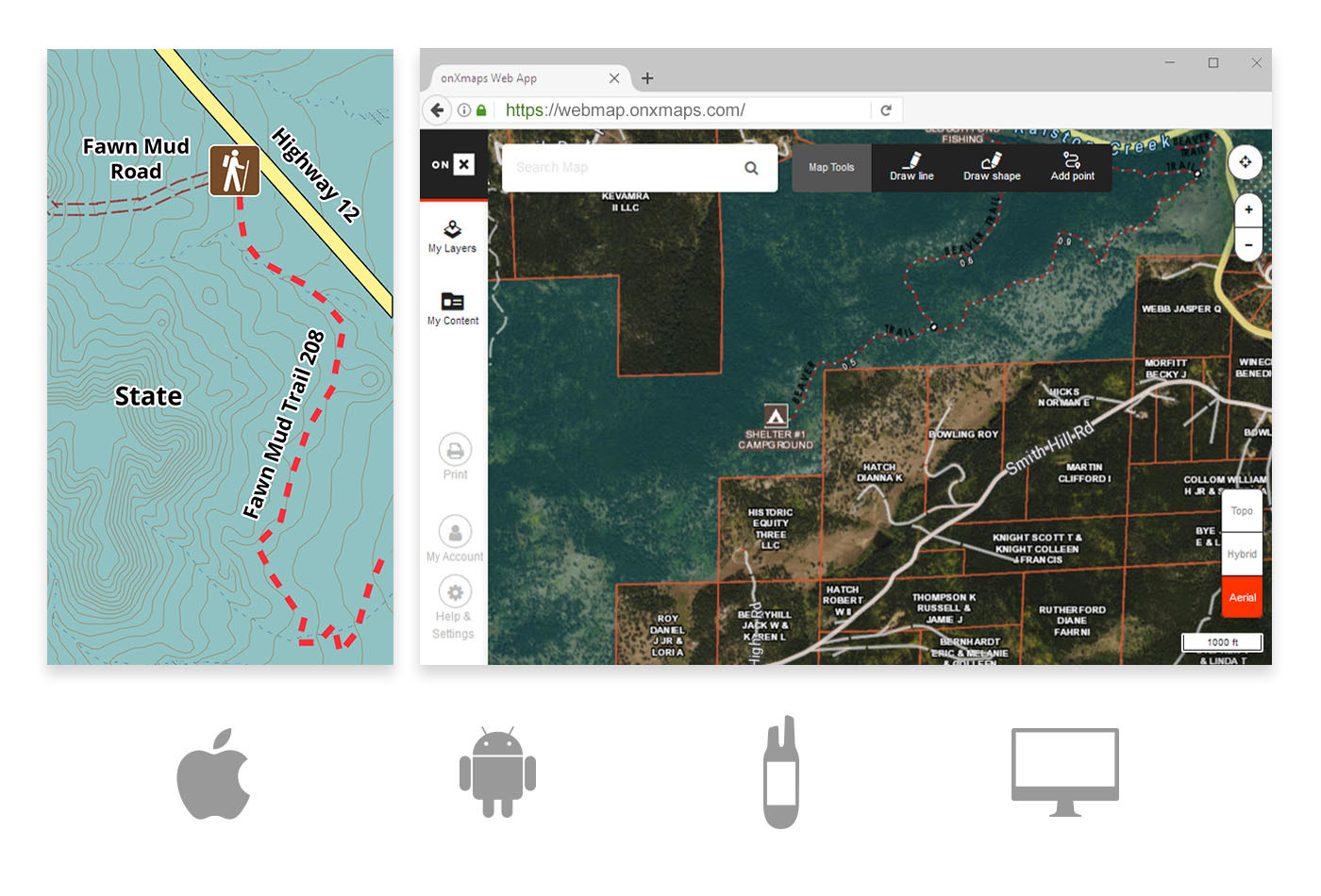 Find new access and view hunting units, waterfowl production areas, private property and more over 24K topo basemaps for the most accurate map available on Garmin GPS.
Landowner names & boundaries

Color-coded public lands

Roads & trails

Most up-to-date Hunting Districts

Hunt App Membership included
Map details
Landowner name appears on parcels within the state
Landowner name is searchable in BaseCamp and most GPS units
Private Lands Open To Sportsmen (PLOTS)
Color-coded land ownership data

State Land
State Wildlife Management Area
State Forests
State Parks
Bureau of Land Management
City land, county land
US Fish & Wildlife (Waterfowl Production Areas, Wildlife Refuges)
US Forest Service (National Grasslands)
Indian Reservations
Corps of Engineers
Department of Defense
Local government
National Park Service
Colleges, Universities and associated lands
Much more!

2019-20 Elk, Pronghorn, Deer Hunting Units
Wilderness areas
24k topo
Section lines and numbers (T24N R34E 12)
City pakrs, county open space
Oil and Gas Well data
Roads - Highways, city and county roads, National Grassland roads, National Park roads, state lands roads, National Wildlife Refuge and Waterfowl Production Area roads
Trails - National Grassland trails, National Park trails, US Fish & Wildlife trails, local park trails, state park trails, multi-use trails, snowmobile trails, and the North Country Trail
Campgrounds
Geographic name - Cities, towns, bluffs, badlands, plateaus, oilfields, dams, coulees
Water - detailed data on rivers, lakes, reservoirs, marshes
Bathymetry - Depth contours for many lakes around the state (not for navigational use)
Fishing access sites (boat ramps, and public fishing piers)
Ranch & Farm House Locations
Airports - with current FAA data
Microbrewery locations
Disc Golf course locations
Full solution Membership
Purchase of the Hunt Chip also includes the use of the Hunt App for 1 year, along with free Hunt Chip Updates. Turn your smartphone or tablet into a powerful field-use GPS with no cell service required.
Map updates
Already own a Hunt Chip? Download the chip update wizard to install the latest maps.
Version 19.0 Released on: Sep 12, 2019

Updated Elk, Pronghorn, Deer Hunting Units to 2019-20
Updated Private Lands Open To Sportsmen (PLOTS) *current as of Sep 9, 2019
Version 18.0 Released on: Oct 10, 2018
Added parcel data in the following county: Walsh
Updated Elk, Pronghorn, Deer Hunting Units to 2018-19
Updated Private Lands Open To Sportsmen (PLOTS) *current as of Sept. 5, 2018
Added additional data to the North Country National Scenic Trail
Added shooting ranges throughout the state
Version 17.0 Released on: Aug 1, 2017
Updated Elk, Pronghorn, and Deer Hunting Units to 2017-18 regulations
Updated Private Lands Open To Sportsmen (PLOTS) to 2017 season
Version 16.0 Released on: Sep 30, 2016
Updated land ownership statewide
Added parcel data to the following counties: Barnes, Dickey (partial), Grant (partial), Hettinger (partial), Lamoure, McIntosh (partial), McLean, Mercer, Oliver, Pierce (partial), Ransom (partial), Sargent (partial), Sheridan (partial), Sioux, Steele,
Updated Private Lands Open To Sportsmen (PLOTS)
Updated Hunting Units to 2016-2017
Updated FAA data
Updated transportation network to include more USFWS-sourced roads
Land ownership coverage
Land ownership coverage
Our parcel coverage map lets you know at a glance which states and counties we have private land owner data for in our products. Due to differing state regulations and availability of data, we currently do not have complete coverage for every state and county. However, if a state or county makes the parcel data available, we make every effort to include it in future updates.
Use the buttons below to toggle between Hunt Chip and Hunt App parcel coverage layers.
Legend
- Full coverage
- Partial coverage
- Property boundaries
- Public lands only
- No coverage