Cliffside Trail to Little Creek Mesa
Best Time
Spring, Summer, Fall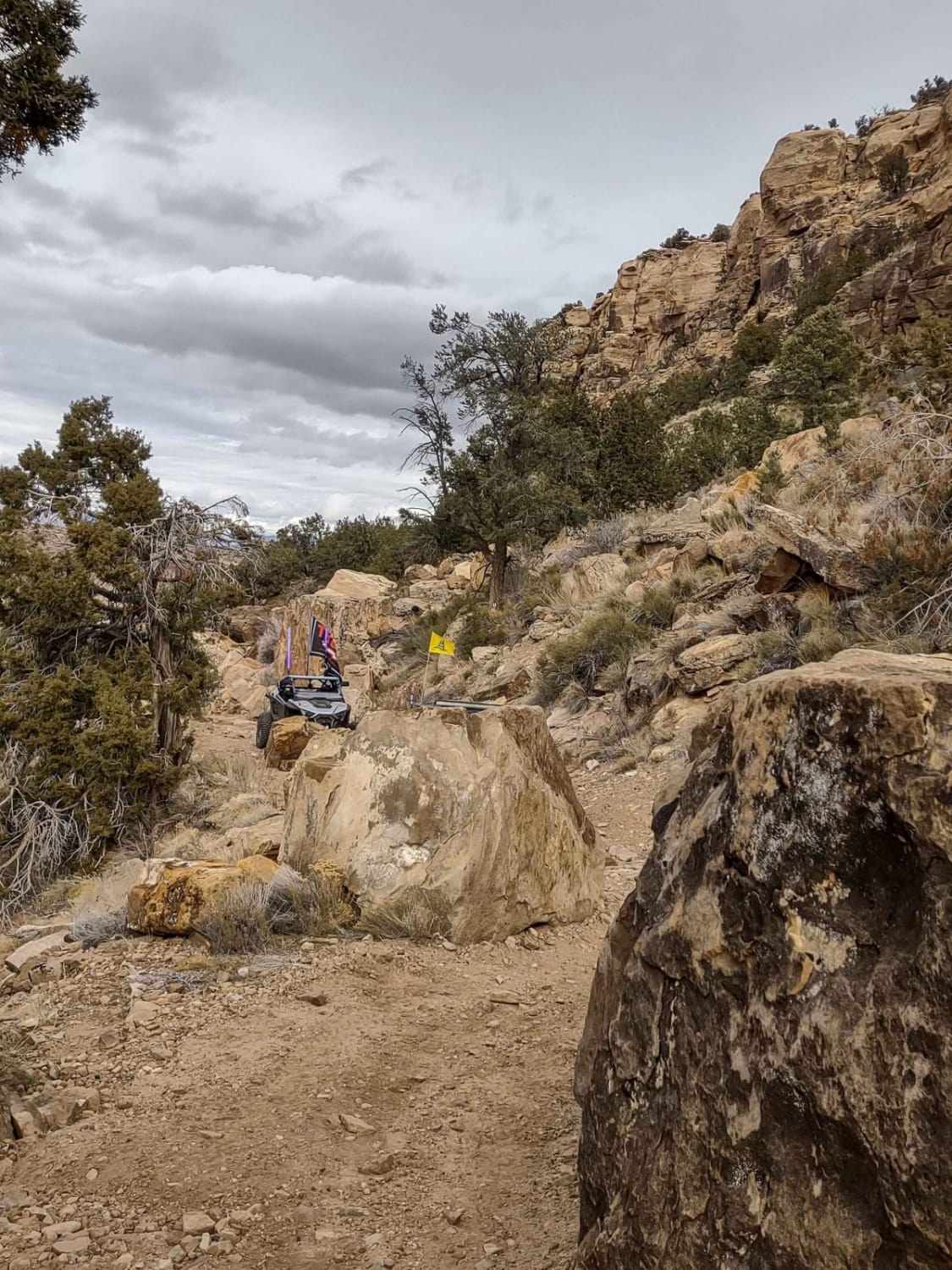 17
Trail Overview
We found a way to get on top of Little Creek Mesa without having to go clear around the mountain, but this trail is not for the faint of heart. It's narrow and steep, as it goes right up the side of the cliff. It's a rocky trail, with some very big rocks you have to maneuver around. In one spot, the trail is narrow because a huge boulder has come down onto the trail, and the boulder has been chipped out to allow vehicles to pass. I don't think there is enough "head space" for a lifted Jeep to get under this boulder, and there is no way around it. The mountain falls off to your right, and you have to pass under this lip. Our 4-seater SXS would fit under it, but we would have to remove our whip light on the driver's side. The lip is about 6.5 feet tall, so measure your vehicle before attempting this trail. It is possible to turn around in some places on the trail, but it's just barely wide enough. The views back down into the valley as you climb are beautiful. At the bottom of this trail, there are some dirt bike trails and a lot of concrete sidewalks that were put in by someone and then abandoned. They're great for riding bikes on. The dirt bike playground is fun, too. Once you head up this Cliffside Trail, there is no room for mistakes. Once you climb to the top, you're on Little Creek Mesa. And you can return to Hurricane via the Around Little Creek Mountain Trail, or you can come back down this Cliffside Trail. Those who are afraid of heights might have an issue on this trail. It is wide enough in almost every place for our 75" SXS, but there are a couple of places the outside tires are near or just over the edge of the trail. In those places, there are trees and rocks right below the trail, so it's doable. It doesn't feel like the trail is going to fall out below you or you're going to slip off. But this is a good option, instead of taking a 4-5 hour trip around Little Creek Mesa. During the hot summer months in Hurricane and Sand Hollow, the temps up here will be much more moderate. During the winter, if it's snowed recently, this trail will probably be closed due to snow. We rode it in December, but the snow hadn't come yet. As always, be aware of rattlesnakes if you're out of the rig moving around. Once you reach the top, you can take Little Creek Mesa Trail to overlook places at the edge of the rim. You can find Rocky Top - Little Creek Mesa Trail and you can explore the numerous other trails on this mesa. Be sure to bring a camera, these views are priceless. And bring extra fuel, as you are a long way away from a fuel source once you reach the top of the mesa. Starting Feb 2023, Utah is going to begin enforcement of their new law, which requires an online course for all off-roaders. The free course will be available online as of Jan 1, 2023. The state says the online course will take 15-30 minutes, and it's required for all off-roaders, Jeeps, SXSs, dirt bikes, and ATVs. You will have to print out something to carry with you which shows you took the course. I have a photo below with this information.
Difficulty
This trail contains very large rocks to go over and around. There are tight turns, where longer vehicles will have to use a 3-point turn. There are boulders in the trail with low clearance under the lip above. The lip is about 6.5 feet, so if you're taller than that, there is no way for you to fit on this trail. If it's muddy or wet, this trail would be a 10. If it's snowed, this trail will most likely be unpassable.
History
Mollie's Nipple: Local sources claim that Mollie's Nipple was named by John Kitchen, an early pioneer, and explorer of Utah. According to early local cowhands, this butte was named as a compliment to Kitchen's bride Mollie. Honeymoon Trail: During the late 1800s and early 1900s, a primitive wagon road was the principal travel route between the Mormon settlements in northeastern Arizona and southern Utah. In the late 1870s, Mormon colonists had been sent by church leaders to pioneer new settlements along Arizona's Little Colorado River. As the new settlements were remote and isolated, many goods and services could only be obtained from the established Mormon communities of southern Utah. After 1877, the Arizona Mormon settlers also traveled to St. George, Utah to conduct church business and have their marriage vows solemnized in the newly-completed St. George Temple. So many newlyweds traveled the wagon road that it came to be known as "the Honeymoon Trail".
Technical Rating