Honeymoon Trail (Extended) UPDATED
Best Time
Spring Summer Fall Winter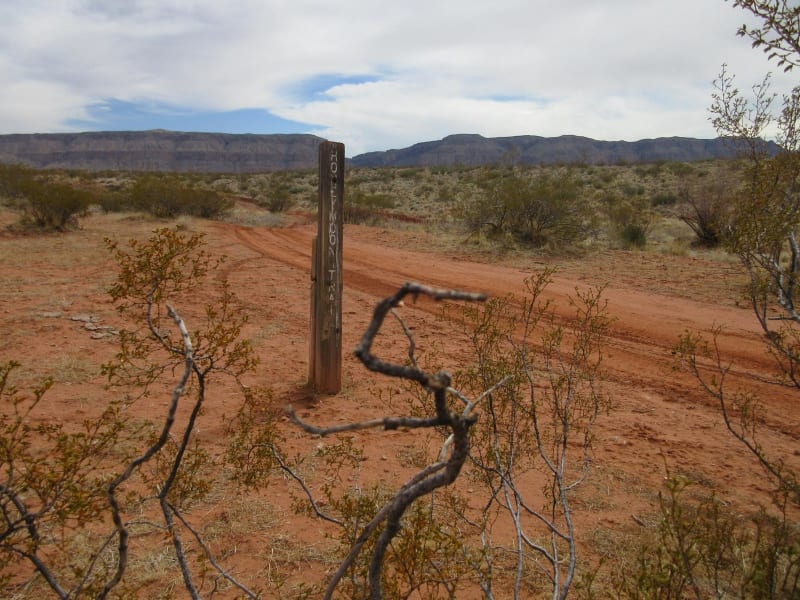 18
Trail Overview
The trail traverses the upper desert where weary travelers from southern AZ and eastern UT would travel to St. George to visit the temple. Parts of this trail in the Warner Valley were also used by the lumberjacks bringing wood from Mount Trumbull over the Temple Trail. The two trails coincide in Warner Valley. The most eastern portions of this trail, when you get on top after the climb, is actually a dirt road that can be traversed by any vehicle. The Warner Valley portion of the trail does have some sections that are posted and not to be used by motorcycles, Jeeps, or ATVs. The trail is also known as the Old Arizona Road in some literature. When you climb or descent on the steep slope imagine you're driving a wagon with a team of horses with a log on a rope tied behind your wagon to keep it from running away. Portions of the original work done to make the trail passable are still visible such as a cut through a rock wall and stone bridges to all traversing the valley steams. This is a great way to see history and imagine all the issues those young couples faced in trying to get to the St. George Temple.
Difficulty
The entirety of this trail is at most a 2 to low level 3 except the climb from Warner Valley to the top of the mesa. That trail is very steep, rocky, with rock ridges and two areas that are extremely rough with large rocks and rock ledges on a precarious camber with a significant drop adjacent to the trail. This area should be completed in groups with a spotter or by experienced drivers. Passengers often get out and walk to the other side of these areas refusing to ride this section. The trail in Warner Valley has options, but does traverse a wash that is susceptible to flash floods at times. The Warner Valley area can become very muddy after precipitation. The trail at the top is a dirt road that can be traveled by most highway vehicles.
History
The Honeymoon Trail is famous in the SW Utah-Arizona area. There are also many historic accounts of the difficulties the young travelers encountered on their journey from an extreme shortage of potable water, flash floods, an extremely unfriendly terrain for wagons. In the St. George area pieces of the old Honeymoon Trail can be found and one of the most exciting is included in this journey. The trail also includes a path that approximates the journey the young couples would take after coming down the mountain to the historic Fort Pierce then on to St. George. As trails took tremendous effort to establish many of the trails overlap. For example, part of this trail overlaps with the Temple Trail. Depending on which story you're interested in following, the trail is applicable to that story.
Technical Rating