Quarry (FS 350.B)
Best Time
Spring Summer Fall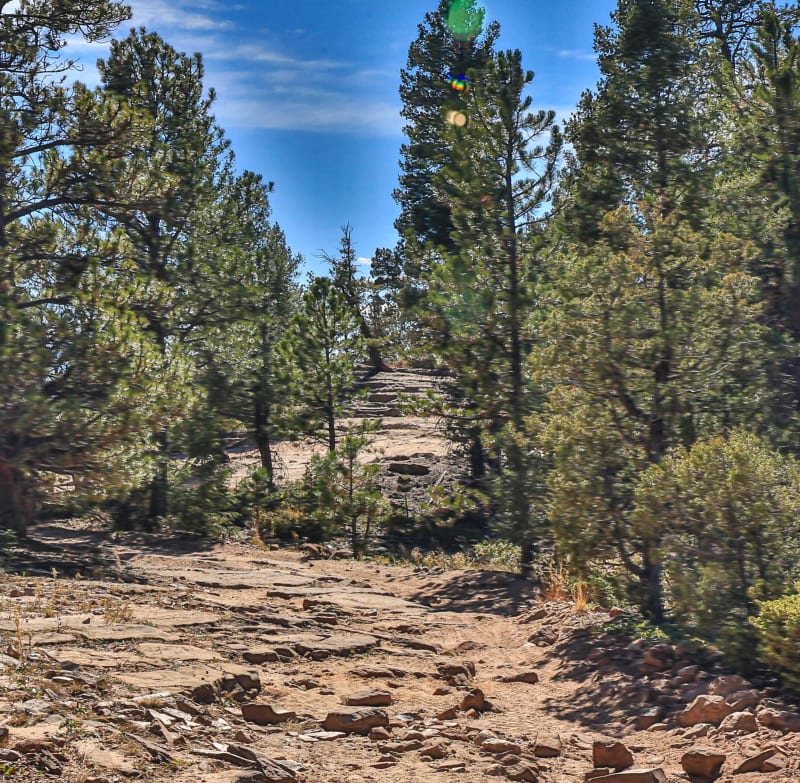 14
Trail Overview
This is a very scenic and very fun trail on dirt, slick rock and loose rock. The very fun part is an area of granite ledges/steps to climb or descend. You can pick your way through smaller steps, or find vertical steps over five feet. There are flatish areas between the steps that allow you to properly position your vehicle. Both the west and the east access points have about a 14%-15% average grade and are rocky, but are short climbs (both about 200 feet long with a 30 foot vertical). The west access point has more side-to-side room for Jeeps, while the east side would be rather tight for Jeeps, especially with sharp switchback turns near the base. The climbing steps are toward the east end of the trail. From the west access point, you have a rocky, rutted, forested and root-laden trail as you trend upward. Toward the top, you start to encounter slick rock and broken granite boulders. The view to the south is excellent with expansive views of Pikes Peak. As you turn to the north, the slick rock becomes more dominant and you are at the steps.
Difficulty
The climbs at the access points pose no significant challenge. The trail is very rocky, rutted, eroded and tree-prone most way. However, this earns it's rating for the unavoidable set of vertical drop steps/ledges from 18" to over five-feet high near the east end of the trail. During the spring snowmelt or summer monsoon, deep mud is also possible.
Get the App
Find Off-Road Trails
Unlock more information on Quarry (FS 350.B).