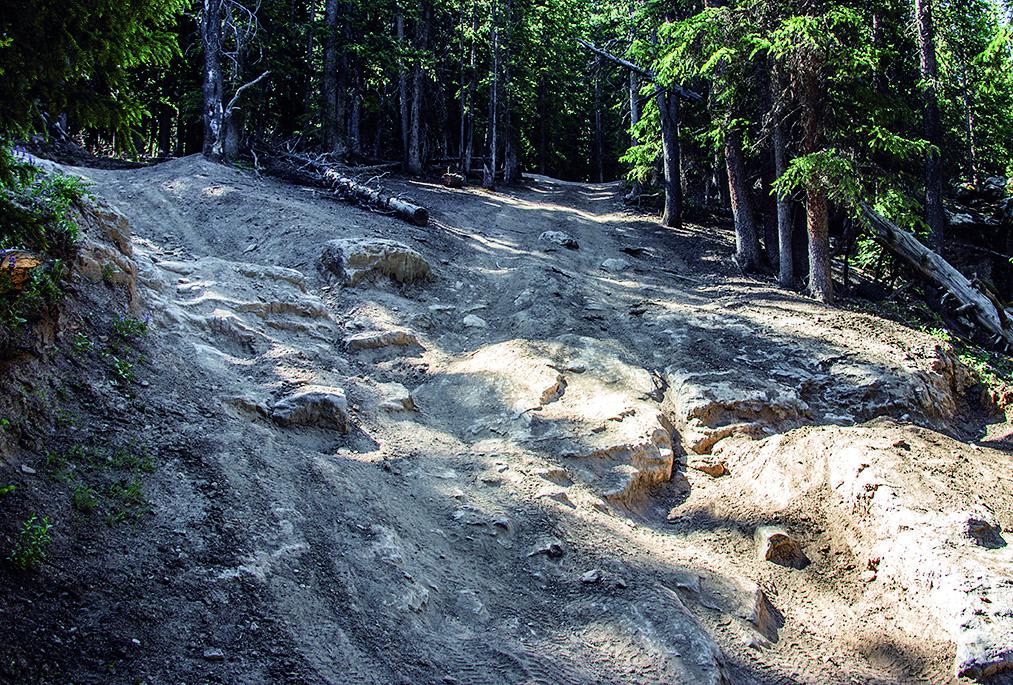 5
Trail Overview
This is a fun climb through the mountains, starting at Camp Hale. Climb to the top of Resolution Mountain with incredible views of Mt. Holy Cross. Then, descend Shrine Pass Road by way of Wearyman Creek. There is an option to make this trip a loop if you turn right at Wearyman Creek and travel up to Ptarmigan Pass. Camping available at south end of Camp Hale for a fee. Open June 21-November 22.
Difficulty
Mostly moderate, except for one steep, rocky spot pictured on opposite page. Most stock 4x4s can get up it when dry with an experienced driver. Option: turn right at Wpt. 05 (see map).
History
Camp Hale was established in 1942 as a winter training post for the army. At its peak, the camp housed about 16,000 soldiers, 14,000 of whom were members of the famous 10th Mountain Division. In addition to barracks, the post included mess halls, a hospital, chapel, fire station, post exchange, stockade, ski shop, bakery and an ice-making plant. Information boards are located on Highway 24 and throughout the area.
Status Reports
Steve c
Jul 28, 2023
Dusty
Rough/Deteriorated
Muddy/Wet
mark feferman
Jul 16, 2023
David Kiatta
Jul 12, 2023