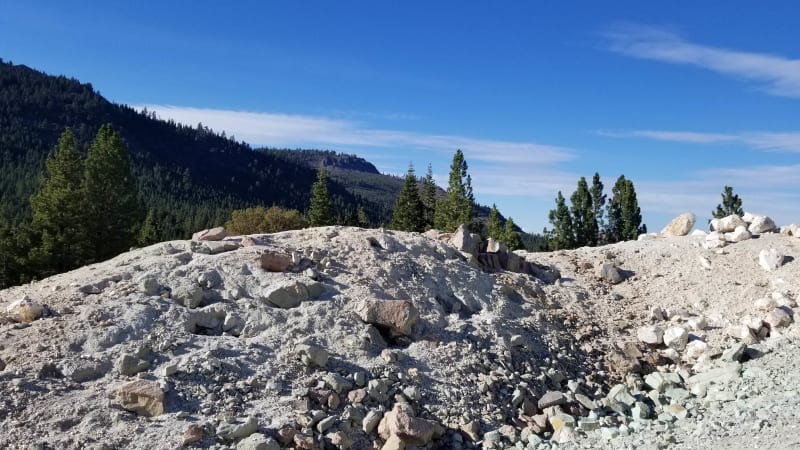 8
Trail Overview
This loop trail offers wide panoramas of endless mountain forests and picturesque views of multiple reservoirs all along an easily traversed dirt road. An exciting surprise awaits at the midway point of the trail--the Crystal Peak Mine. Open for day use to the public for free, the beauty of the entirely quartz-covered mountain top beckons visitors to look for perfectly formed crystals with rewards of all sizes being found often. This trail starts just outside of Truckee and is a must do for rockhounds or if you are looking for a route with maximum scenery and minimum technical difficulty. The trailhead staging area can be crowded--especially during summer and on weekends and holidays. Much of this featured route follows some of the area's main roads which are used by many; depending on you and your vehicles capabilities choose to stay on the wide dirt road, or explore the spurs and side trails for alternate routes that offer more challenging and technical terrain.
Difficulty
Crystal Peak Miner's Way meanders predominately on US Forest Service main access roads which are dirt roads, slightly rocky in a few places and generally wide and inviting to even the most novice off-roader. 4WD is not necessary in good, dry weather. Trail can get slick after it rains and snow can make it impassible.
History
Crystal Peak Mine was discovered in 1845 and operated during World War II for electronics grade quartz crystals. The mine has been known and mined for over 150 years and still offers a generous allotment take of 5 gallons a week per family--it's up to everyone to T.R.E.A.D Lightly to ensure the area can be enjoyed in another 150 years.
Status Reports
Johnny Mancilla
Oct 21, 2023
Oscar Zamora
Jul 10, 2023
Jack Killoran
Jul 08, 2023