Illinois Bayou Granite Luge
Illinois Bayou Granite Luge
Best Time
Spring Summer Fall Winter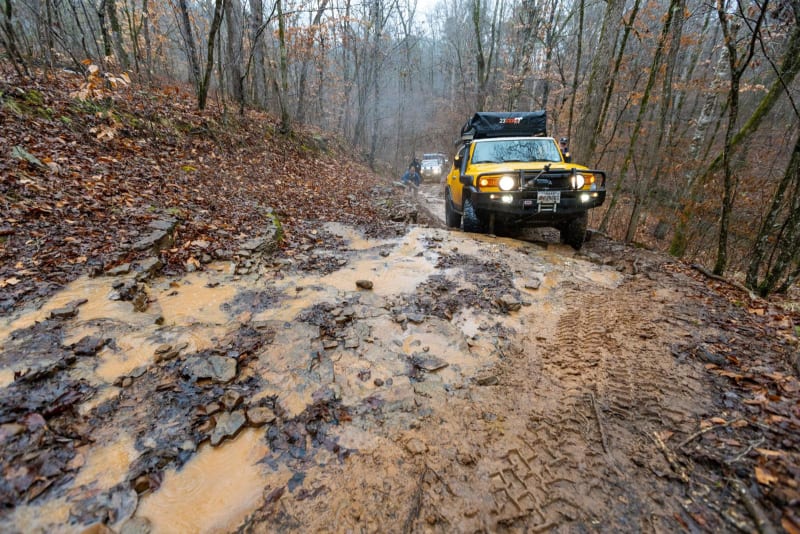 37
Trail Overview
The North Fork Illinois Bayou is a great place to start this adventure. This camp site allows for multiple rigs with a large fire ring in the middle of the site, on the banks of the river. Waking up to a river crossing on day one is memorable. Just over one mile into the start, you are faced with an uphill obstacle that is not for the faint of heart, weak axles or CV Joints. Beindorf (T-Hill) Be prepared to winch. About five miles past T-Hill, you have the option a of small riverside camp site near the old Brock Cemetery. If that does not appeal to you, another six or so miles further is a neat little two-acre pond that offers a large camp site next to the water. Spending a long day at the lake allows you to only move five miles the next day and stay along side a well-maintained gravel road with a very elaborate fire ring that could consume cords of wood from the nearby brush piles. 13 miles past the large fire ring, you will jump onto pavement for a quick ten-mile scenic run down and across Big Piney Creek and past Haw Creek Campground. This place makes for a great lunch location or pay the fee and stay with designated sites, vault toilets and trash bins. Continuing along, 650 yards off the pavement, you are greeted with another camp site along a brook in Bowman Hollow. Leaving this site, you will be presented with an uphill stent that holds a single mud hole that is not to be taken lightly. Just over two miles past the camp site, there is another large camp location in the powerline right of way that has another established fire ring. 10.5 miles after leaving the ROW camp location, you will encounter the historic Spurgeon Warren Homestead. Locally known as 'Bubs Cabin", stop in and take the tour and hope Bub is there to give you the history lesson school never taught. Seven miles past the homestead, a Granite Luge will appear and take you for a nice little ride down the hill. Nine miles later, you will pass the public shooting range, Pleasant Hill Shooting Range. There is one more camp option before you hit pavement.
Difficulty
There are four locations where winches may be needed. Uphill, off-camber shelves and mud holes. Deep ruts have potential for a side flop. Water levels vary during heavy rains and can make crossings impassible.
Get the App
Find Off-Road Trails
Unlock more information on Illinois Bayou Granite Luge.