Tyro Mine Inside
Best Time
Spring, Summer, Fall, Winter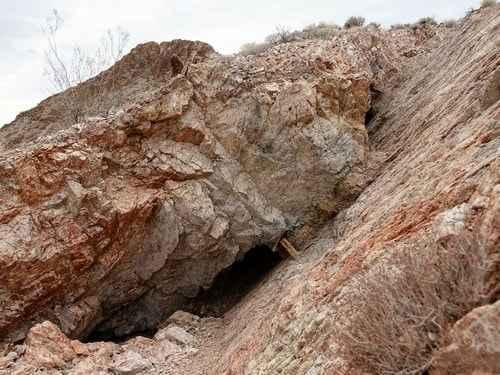 5
Trail Overview
We started at Katherine's Landing near Bullhead City, but you can also get here from Sleeping Princess. The road is rated 5 either way, although Katherine's Landing side is slightly easier. The first right-hand spur coming from Katherine's Landing takes you to a much smaller, strangely slanted, mine. Follow the track and use the waypoint to find the entrance to Tyro Mine. Look to the right of Jayne and you can see a spot of light from the outdoors. There are hangers in the ceilings every few feet. It would be romantic to think this is where miners hung their lanterns, but since the mine was operating in 1943 they were more likely holding electric wires for lighting.
Difficulty
Uneven, rutted dirt trail with loose rocks, sand, erosion, and washes. Potential water crossings up to 18" deep, mud holes, and obstacles up to 2 feet, including ledges and short, steep grades.
History
During 1915 and 1916, the Tyro shaft was sunk to a depth of 500 feet, and some drifting was done on the 200-foot level. Some ore was produced from small pockets near the surface. These owners failed to make a go of it and closed the mine. During 1933-1934, W. E. Whalley and C. F. Weeks, lessees, built a road from the mine to the Katherine highway and began production from surface cuts on the vein. This is a unique mine as a portion is cut into the ground where the tunnels are cut into the sides. We describe this portion cut into the ground as a "gash". Last production was in 1943. The structures inside the mine are in fantastic shape considering how long they have set without maintenance.
Technical Rating