Sunflower Flat and JD Cabin
Best Time
Summer, Fall, Spring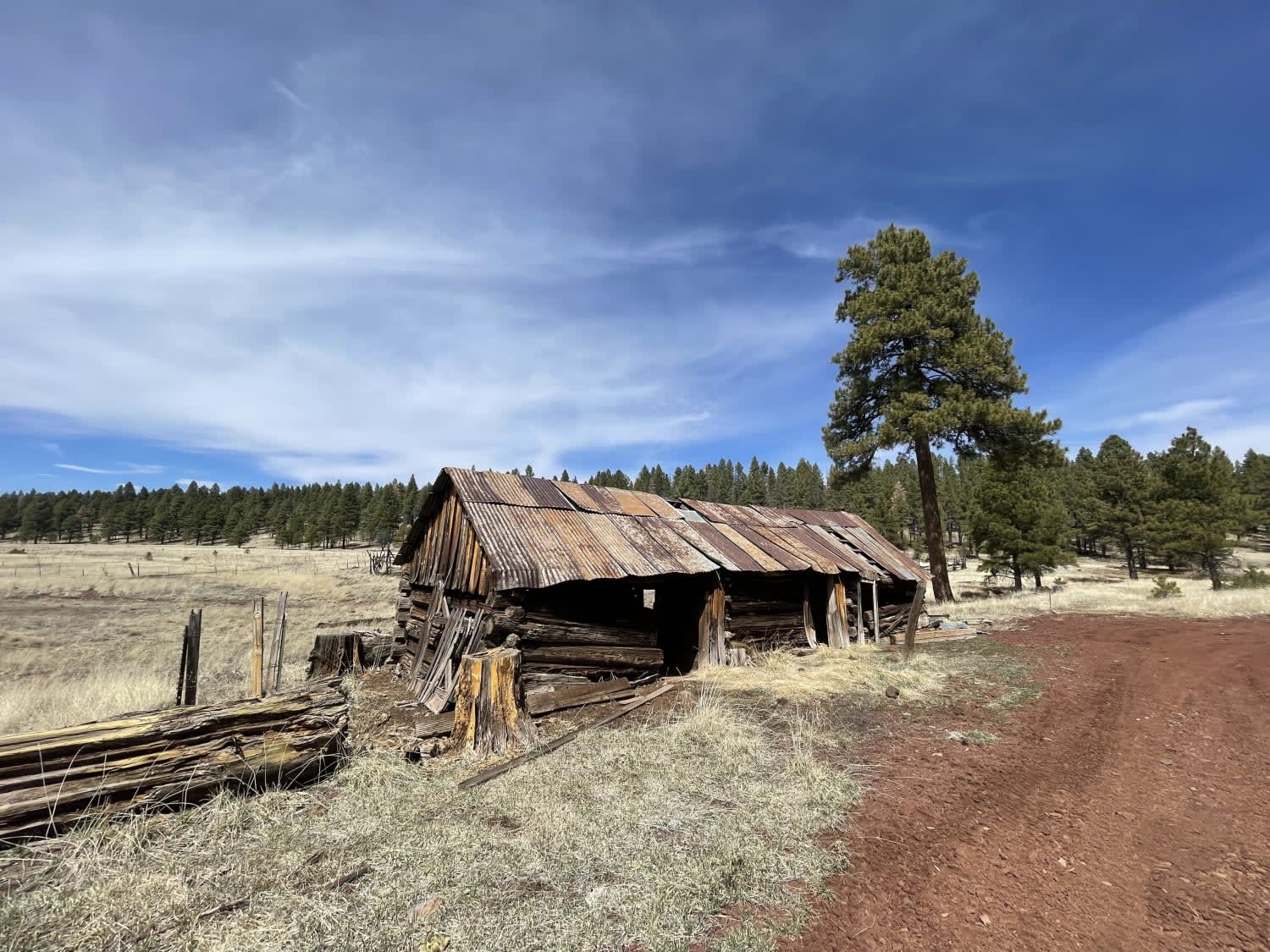 15
Trail Overview
This rutted-up trail provides access to the Sunflower Flats Lake recreation and wildlife viewing area and the JD cabin. The flats and cabin have posted no camping signs and are only accessible by foot. The historic cabin is open to exploring. There are, however, dispersed spots in the area nearby to camp. The trail is pretty easy but heavily rutted from people traveling on them when wet. There is no winter maintenance, and it may be inaccessible when wet. One bar LTE in and out.
Difficulty
Easy Grader, some ruts, no winter maintenance, maybe impassable when wet.
History
JD Cabin and Grave. It is northwest of White Horse Lake. Forest Service info identifies the site as having belonged to James Douglas who is buried nearby. The area was settled in the 1870s. There is a cabin, a barn, and an old corral. The buildings seem newer than the 1870s since they are primarily constructed of recycled railroad ties. Inside is a more modern kitchen sink, with plumbing some old furniture, and a large steel water tank on the hill above. There are the remains of an old log building that may date to that earliest period. Unable to locate the gravesite.Sunflower Flat Wildlife Area is located about 15 miles southeast of Williams, Arizona, on the Kaibab National Forest. The property is 160 acres, with approximately 120 acres within an ephemeral wetland located in an ancient lake bed. There is an earthen stock tank at the northeast corner of the property. The remaining 40 acres is the upland habitat of grassland with scattered ponderosa pine (Pinus ponderosa). It is bordered by federal lands managed by the USFS Kaibab National Forest. There are no designated roads into or within Sunflower Flat; therefore, access to the property is on foot only.Due to the fact that the wildlife area is a stopover point for a number of different migratory bird species and waterfowl and is a travel corridor for big game species such as elk; Sunflower Flat Wildlife Area is highlighted as a premier location in northern Arizona for watchable wildlife opportunities.Recreational opportunities:Camping: Overnight public camping is not permitted. Effective summer 2019, overnight camping will be a permitted activity within the wildlife area.Hunting: Open to all hunting in the season as permitted under R12-4-304 and R12-4-318. Motorized big game retrieval is allowed within the wildlife area. Game Management Unit 8.Hiking: There is a 3.7 ad-hoc loop trail (not maintained) around the perimeter of the wildlife area.RestrictionsMotorized vehicle travel is permitted on designated roads or areas only, except as permitted under R12-4-110(H).Amphibians and Reptiles: Arizona toad, canyon tree frog, Arizona tree frog. Greater short-horned lizard, plateau lizard, gopher snake, Arizona black rattlesnake.Birds: Osprey, bald eagle, great blue heron, white-faced ibis, American avocet, ruddy duck, Canada geese, mallard, redhead, ringneck, green-wing teal, blue-wing teal, cinnamon teal, northern pintail, bufflehead, northern shoveler, gadwall, wigeon, mourning dove.Mammals: Elk, mule deer, black bear, pronghorn antelope, Abert's squirrel, coyote, grey fox, bobcat, skunk, raccoon.Plants and Vegetation: Wetland species such as sedges, spike rush, and bulrush. Ponderosa pines dominate the habitat up-slope of the ephemeral wetland.
Status Reports
There are no status reports yet for this trail.