Gobbler Knob Loop
Best Time
Spring, Summer, Fall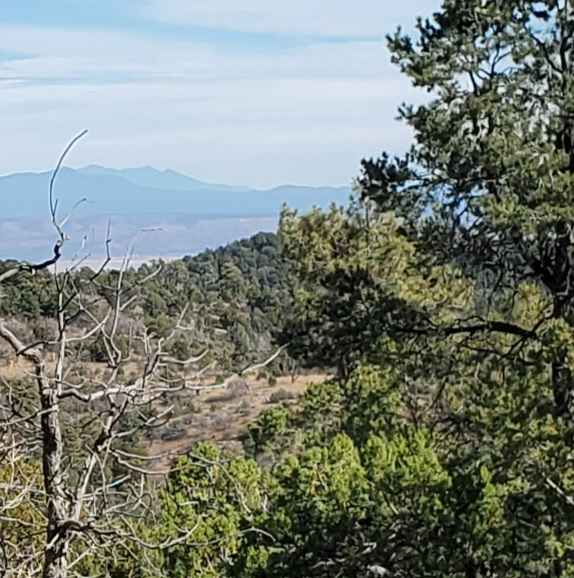 12
Trail Overview
This loop is approximately 43 miles of scenic Ponderosa Pine/Gambel Oak woodlands, Pinyon Pine/Juniper woodlands, and chaparral/grasslands. Most of the route is in the woodlands, but there are a few scenic vistas on the way to the start of the loop and high points near Gobbler Knob. Large old-growth Ponderosa Pine stands line the route in many places. Wildlife such as elk, mule deer, javelina, turkey, and mountain lion are common in this country. The northern part of this loop takes the traveler through alternating sections of (1 sq mile) of private (Yavapai Ranch) and Prescott National Forest (PNF) lands. The Ranch has provided, in conjunction with the Arizona Game & Fish Department, registration kiosks if the traveler plans to hunt or camp on private lands (noted as waypoints on the route map). This is an active cattle ranch, so respect the "keep gate closed" signs. There are plenty of dispersed (pull-offs/no amenities) camping sites along the loop on PNF land. The loop is long and slow, and it starts well away from any provisions, supplies, or fuel. Cell phone reception is intermittent on the route from Prescott and available only at a few high points along the loop. The traveler should be prepared with emergency food, water, and appropriate clothing: even summer nights/mornings can cool to heavy-jacket temperatures. The route ranges in elevation from 5100 ft. above sea level to 6900 ft. above sea level, so winter snow is possible and heavy rains can occur in the southwest monsoon season (July-Sept). Be sure your vehicle is in good working order, and you have tools and equipment with you for flat tires or minor issues. Be sure to let someone know back home or at camp, your intended route since cell coverage is limited.
Difficulty
Access to the starting point and a portion of the return, is easy via Yavapai County Rd 5 (aka Williamson Valley Road), a well-maintained, engineered, two-lane dirt road. However, the majority of the loop is PNF dirt roads with loose rock and many areas rutted from heavy summer rains. While the majority of the loop is level or gradual grades, there is one section of FR 7B (approx .5 mile) that is steep and narrow with loose large rocks. There are several small drainage crossings that are dry most of the year, but can run heavy with summer rains or run shallow with spring snow-melt. Potential wet crossings, a short steep grade, and unmaintained and rutted roads with loose rocks (some large) is why this is rated as 4-Intermittent. This loop is for 4x4/OHV vehicles and higher-than-stock clearance is recommended.
History
The area is rich in Native American history and the Williamson Valley Rd was an historic route for the Army to access Ft. Whipple in Prescott and it also served, in part as a railroad and toll-road. This road takes you across an historic steel bridge over Walnut Creek that was moved here from southern Arizona in the 1930s.
Technical Rating