Black Mesa
Best Time
Spring, Summer, Fall, Winter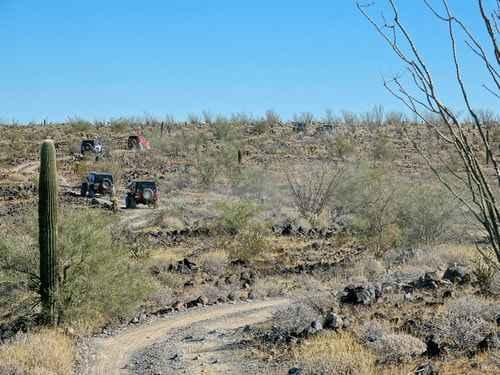 6
Trail Overview
Great views from a mesa surrounded by the Buckskin Mountains. We are not sure why this trail is called Black Mesa. The USGS Topographic Map calls this formation the trail is on "The Mesa". Perhaps because the mesa appears somewhat black, or perhaps because it would be confusing to refer to as "The Mesa". People would always be asking What mesa? There are a few rocky hills, thus the 5 rating. We went in a counterclockwise direction. Climbing up to the mesa provides nice views of Mineral Wash and the mountains beyond. About 5.5 miles into the trail you will come to the edge of the mesa. This is the first major overlook and is a good spot for lunch. The pointed hill in the foreground is Mineral Hill. There are several Jeep trails in the distant mountains. Drive along the edge for a ways then turn away and drive across the top of the mesa. There are no "Oh, Ah" moments along the top, but the drive is still interesting. The first spur shown on the map, and in the GPS track, goes to an overlook out on a point. We were a fairly large group and our trail leader said there was not much turnaround space so we did not go out on it. She also said there was perhaps an eighth-mile walk to get good views. We continued to the second spur and experienced a scenic vista of the Bill Williams River, Bill Williams National Wildlife Refuge, and the Bill Williams Mountains beyond. The third spur is the highest elevation of the trip with views in all directions. Water in the middle of the desert!
Difficulty
Uneven, rutted dirt trail with loose rocks, sand, erosion, and washes. Potential water crossings up to 18" deep, mud holes, and obstacles up to 2 feet, including ledges and short, steep grades.
Status Reports
There are no status reports yet for this trail.