Razzle Dazzle
Best Time
Spring, Summer, Fall, Winter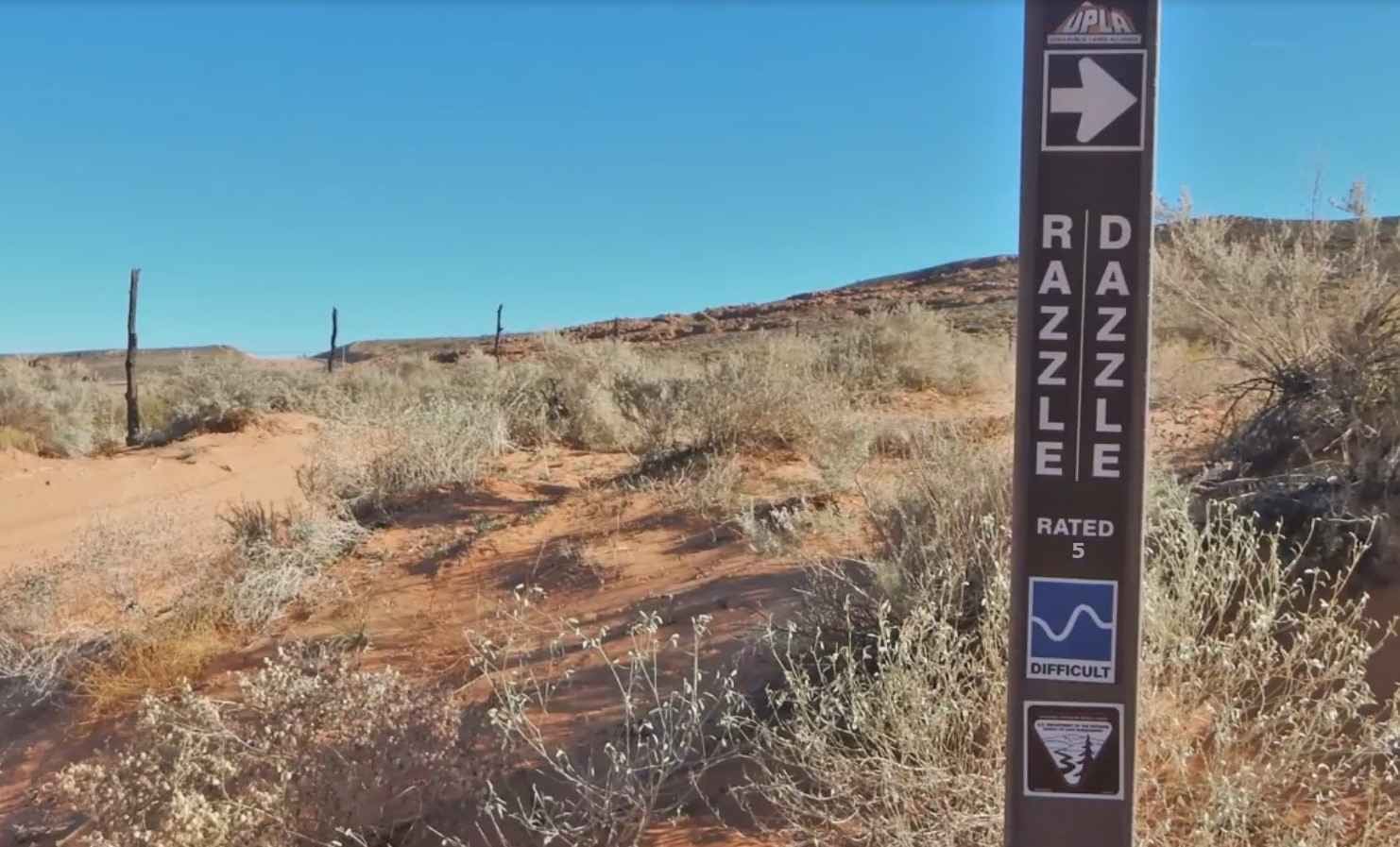 7
Trail Overview
This fun trail is a razzle of moderately challenging obstacles, followed by fabulous scenic dazzle! The run starts off with a series of challenging narrow washes and slick rock climbs. The next section follows the Fathers Dominguez and Escalante historic trail out to the south rim. Once you reach the southern rim you will be welcomed with both views that Dazzle and a series of slick rock ledges, climbs, and descents that will Razzle you further. The run back north will provide you views of Zion, Pine Mountain, and of course Sand Hollow Reservoir. Razzle Dazzle offers 360-degree views of Sand Hollow Reservoir, Hurricane Cliffs, Warner Valley, Pine Valley Mountain, Kolob Cliffs, and Zion Canyon Mountains. On a clear day, you can see forever! A mixture of sand and rocks will offer something for everyone. Razzle Dazzle is a 5 of 10 rated trail, suitable for rigs with a lift and 33" tires, and additional traction aids.
Difficulty
Trail surfaces are rutted, rocky and sandy with steps not exceeding 24", with considerable slickrock surfaces. Water not exceeding 12" with some mud possible. Good ground clearance and driving skills are needed. 4WD, tall tires (33" plus) and traction adding devices (locker, limited slip) are required. Above average driving skills are desirable. Enhanced suspension travel and good ground clearance and a winch would be a plus.
History
Sand Mountain was designated as an Open OHV Area in the 1999 St. George Field Office Resource Management Plan. Adjacent to the popular Sand Hollow State Park, the area provides lots of open riding opportunities on the dunes, and miles of technical trails suitable for full-size 4x4's. Dominquez-Escalante Trail, 1776-1777, is a segment of the likely route followed by the Dominquez-Escalante exploration party in 1776. The trail is found on public lands managed by the St. George Field Office. As this small party of hardy explorers from the Spanish colonies in New Mexico, led by Franciscan friars Atanasio Dominguez and Silvestre Velez de Escalante, made just a single trek here, there are no visible traces of their trail. The route that they traveled has been reconstructed by historians, based on the journal that was kept by Velez de Escalante. White obelisk-shaped stone markers have been placed on public lands to show the general trace of the Dominquez-Escalante party. Several can be seen along the south run to the rim.
Status Reports
There are no status reports yet for this trail.