Nasty Half
Best Time
Spring, Summer, Fall, Winter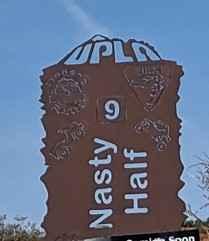 10
Trail Overview
What can you say about this trail that is not already understood by the name. Nasty Half is less than a half mile long but don't let that fool you. The gatekeeper obstacle just sets the tone for what is to come on this 9-of-10-rated trail. Anyone that visits Sand Mountain and comes through the Sand Hollow State Park tunnel knows the beginning of the trail. Can't miss it, because the intimidation is right in front of you, literally. The trail runs through a slot canyon which at times has a nice wide sandy bottom, but every yard of the way brings on the next near vertical wall, wide "V" notch, or off-camber high angle turn. The trail crosses several wide cracks which requires accurate wheel placement or the vehicle will be on the side in the crack. If you are looking for a scenic trail, this is not the one to take. The view from this trail is typically just the next big obstacle to the front.
Difficulty
You can describe this trail as extreme and beyond. The average well-equipped trail rig may have great difficulty in completing this trail. Steps exceeding 60". Steep inclines and declines with off-camber sections are prevalent. Enhanced off-road equipment is required including locking devices (front & rear), tall tires (37" plus), maximum ground clearance, tow hooks, and a winch. Minimum wheelbase 100". Excellent driving skills are required. Vehicle mechanical or body damage is likely. Rollover is very common. Spare parts and tools are recommended.
Status Reports
There are no status reports yet for this trail.