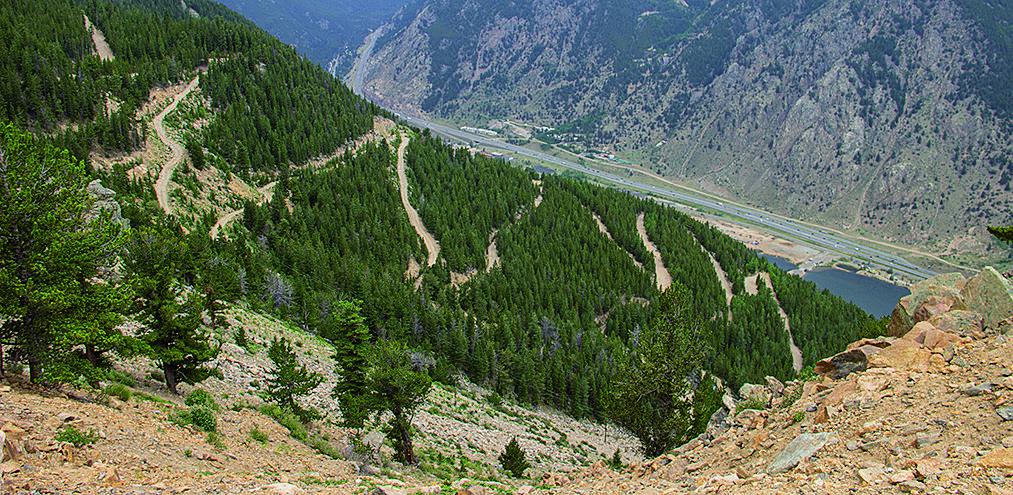 5
Trail Overview
Get a great view of Georgetown below from this impressive trail. You can also see Mt. Evans on a clear day. Georgetown is a fun place to visit. Be aware that there is limited parking at the trailhead. This trail is open year-round, but avoid it if snow is present or after rain.
Difficulty
Difficult. We last drove this road on July 5, 2018. At that time, the road was nearly impassable due to several rockslides. By the time you read this, we hope repairs have been made to the road. If not, this road should be considered VERY DANGEROUS. We got through in our stock Wrangler Sport, but it was challenging in spots.
History
Silver was first discovered on top of Saxon Mountain in 1866. Production continued for many years with several changes in ownership of the mine. At some point, the main vein was considered lost and each new owner thought he could find it. The last owner, Walter Berry of Pittsburgh, Pa., spent 15 years looking for the vein, but gave up in 1951. He tried again in 1968 with newer technology, but still had no luck. Some still believe a rich silver vein is there, waiting to be discovered.
Status Reports
Jim Rittenberg
Sep 13, 2023
Muddy/Wet
Rough/Deteriorated
Washboard
Katherine Fuller
Jul 15, 2023