Deer Valley - Part 2
Best Time
Spring, Summer, Fall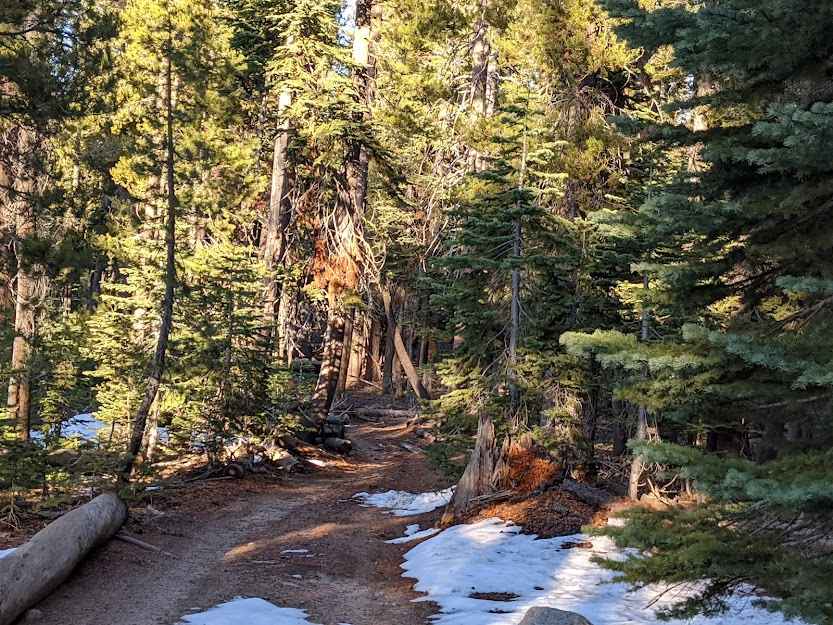 11
Trail Overview
The trailhead from Ebbett's pass starts off very challenging and heads South to North from highway 4 to highway 88 through the Sierra Nevada mountains. It is HIGHLY recommended to have lockers OR a winch. From the beginning, there are large boulders that you must navigate through. The trail winds up a fairly steep mountain with boulders the entire way. The first 1/4-1/5 mile will be very challenging with loose dirt, large rocks, tree roots, and some crevices. You may incur body damage. The trail will present a challenge for those on dirt bikes, but those skilled enough will find it navigable but still challenging and fun. The climb is steep in the beginning, slow, and provides a lot of rock crawling. You are rewarded with great views along the entire trail. However, once you crest the mountain, you are presented with stunning views of several mountain ranges and valleys. This also presents a great place to stop for lunch that is wide enough for several rigs and/or camping. As you move on, depending on the time of year, you may encounter water crossings (ponds and a creek/river), downed trees (winch or chainsaw recommended), mud, and slick surfaces. The trail winds through the trees and climbs up and down rocky hills. Further down, there are valleys to relax at and enjoy. At the end of the trail, you will end up at blue lakes where you can fish, kayak, or just enjoy the beach. To make the trail easier, head from Blue lakes to Ebbett's pass (reverse). CAUTION: There is a gate at the entrance of blue lakes several miles down the road. Check to see if the gate is closed before starting your expedition or plan a return trip. There is no cell service for most of the trail, so be sure to download your onX offroad maps for offline use.
Difficulty
Large rocks and off-camber sections can make it very difficult. Body damage is a strong possibility if you are ill equipped. Roots, slick surfaces, water crossings all add to the fun and difficulty. The area can get tight in many sections due to the thick forest. Full size 4x4 not advised.
History
Named after Major John Ebbett and pointed out in 1853 to surveyor G.H. Goddard who referred to it as a "route of great promise, probably the best one for transcontinental railway". No Emigrant train used this route but a stage road was completed here in 1864 to serve the mining region of Silver City. "Major" J.A.N. Ebbetts claimed to have led a group of miners and mules east over the Sierras in 1851, using a snow-free pass at the headwaters of the Mokelumne River. Later, in 1853, he led a railroad survey team across the Sonora Pass region. From a high peak just east of Sonora Pass he pointed north to the pass he thought he took in 1851 to George Goddard, a mapmaker. In 1854, Ebbetts died in a steamer explosion. In memoriam, Goddard placed the name Ebbetts Pass on the map he completed in 1856, approximately in the region he thought Ebbetts had pointed out. It was not until 1893, however, that the U.S. Geological Survey team, in drafting the Markleeville Quadrangle, officially named the location for Ebbetts.
Technical Rating