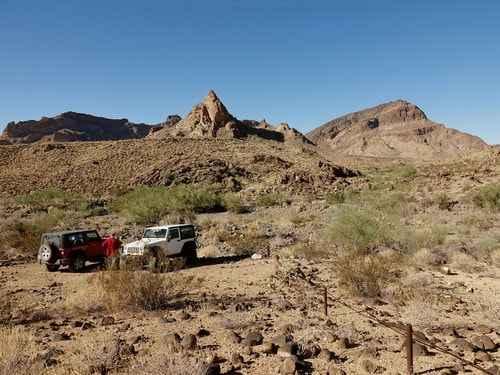 5
Trail Overview
This road forms the boundary of Warm Springs Wilderness for over half the way. This is a very bumpy, and quite boring, trail that makes a loop along the edge of Warm Springs Wilderness. We do not recommend the trail, but it is well known in the area so we have included it on this website. We began at the end of Klaner and Doolin Pits, but the trail can be done either way. The road goes north following the boundary of Warm Springs Wilderness and the base of the Black Mountains. It is very bumpy and slow going with numerous eroded sections. The Black Mountains are nice to look at but there are no attractions close to the road. The first spur protrudes a mile into the wilderness and stops. No reason to go unless you want to hike beyond the road. The second spur stops a mile or so from the actual Warm Springs. The road between the two spurs continues to be slow and bumpy. Turn south from the second spur and take a road slightly less bumpy but much more boring through flattish, open desert. We recommend you turn left at the railroad tracks and follow a graded road along the tracks to I-40 at Exit 13. There is a trail that goes to Exit 9, but it has many washboards and whoop-de-doos. It is shorter but slower.
Difficulty
Uneven, rutted dirt trail with loose rocks, sand, erosion, and washes. Potential water crossings up to 18" deep, mud holes, and obstacles up to 2 feet, including ledges and short, steep grades.
Status Reports
There are no status reports yet for this trail.