McGuffie Cabin
Best Time
Summer, Fall, Spring, Winter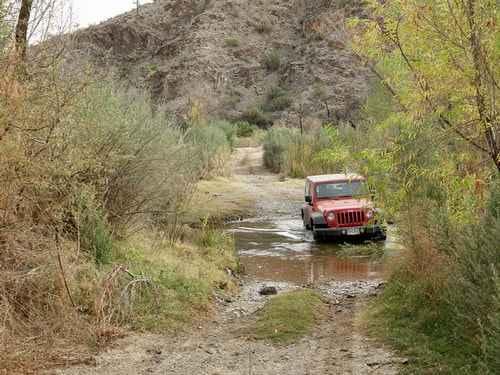 9
Trail Overview
A spur of the Arizona Peace Trail, McGuffy Cabin trail is a short but rewarding route. The trail starts off of County Highway 15 and as a narrow gravel road. The trail continues to the west, and the terrain changes from slightly sandy/rocky washes to rocky trails. At the second Y in the road, turn left (south), continue over a few ridges, and into a wash. Turn south down a mile and a half spur to the cabin. It is obvious that not all vehicles are capable of making it to the cabin. In the wash, you'll see the remains of what looks like an old Honda. The trail re-emerges on the left of the wash just before a dam for the most technical part of the trail. The trail then drops back into the wash and turns west to the cabin. From here, return the way you came. There are many side trails to be explored in the beautiful Sonoran desert. The trail nears the Bill Williams River at an abandoned ford, then climbs in a big loop to an active ford. The river flow gauge at the outlet of Alamo Lake showed a flow of 30 cubic feet per second (CFS) when this photo of the ford was taken. It was no more than a foot deep at this flow rate. Turn east off the pipeline road and follow an occasionally washed-out trail through the Rawhide Mountains. There are no special attractions in this section, but there are enough to keep you awake.
Difficulty
Uneven, rutted dirt trail with loose rocks, sand, erosion, and washes. Potential water crossings up to a foot deep, mud holes, and obstacles up to 18", including ledges and short, steep grades. Roads are typically one vehicle wide with places to pass.
History
We do not know the history of the cabin but expect it was originally associated with the McGuffie Mine, located just northeast of the cabin.This cabin has seen surprisingly little vandalism. It may have been used as a private cabin for some time after the mine closed down.
Technical Rating