Honeymoon Trail - Hurricane Cliffs
Best Time
Spring, Summer, Fall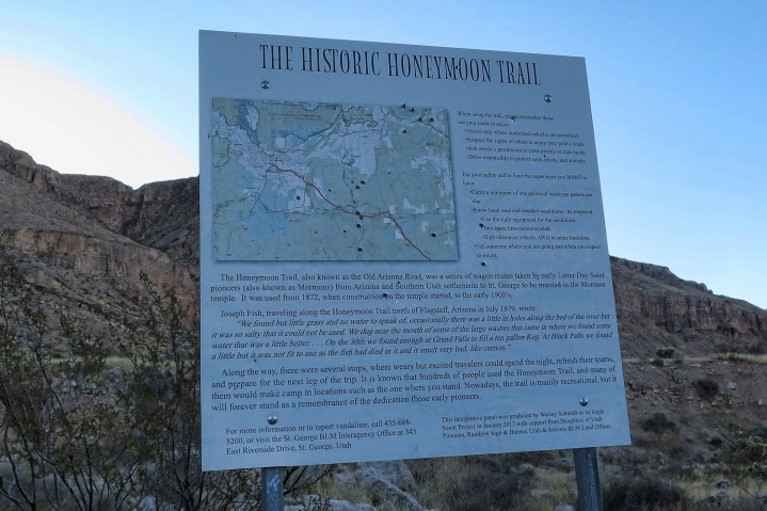 5
Trail Overview
This is the section of the Honeymoon Trail that the Mormon settlers built in order to ascend and descend the Hurricane Cliffs. This is a 3 of 10 rated trail that is mostly hard-pack dirt with a few slick rock or rock gardens to cross. The trail is mostly a single-lane steep climb from the base at the east end of the Warner Valley (just south of the Arizona border) and links to the Antelope/Honeymoon Trail (North). Typically, this trail is run from west to east (up the cliffs) and then follows the other trails north out to Highway 59. This is BLM Land. Although there are several unauthorized side trails, please remember "Stay the Trail" applies to Honeymoon.
Difficulty
Steep uphill climb with short sections of slick rock, a 20-yard rock garden, and rock ledges less than 12 inches.
History
During the late 19th and early 20th centuries, a primitive wagon road was the principal travel route between the Mormon settlements in northeastern Arizona and southern Utah. In the late 1870s, Mormon colonists had been sent by church leaders to pioneer new settlements along Arizona's Little Colorado River. As the new settlements were remote and isolated, many goods and services could only be obtained from the established Mormon communities of southern Utah. After 1877, the Arizona Mormon settlers also traveled to St. George, Utah to conduct church business and have their marriage vows solemnized in the newly-completed St. George Temple. So many newlyweds traveled the wagon road that it came to be known as "the Honeymoon Trail".
Technical Rating