Coral Canyons Rocky Revenge
Best Time
Winter, Fall, Spring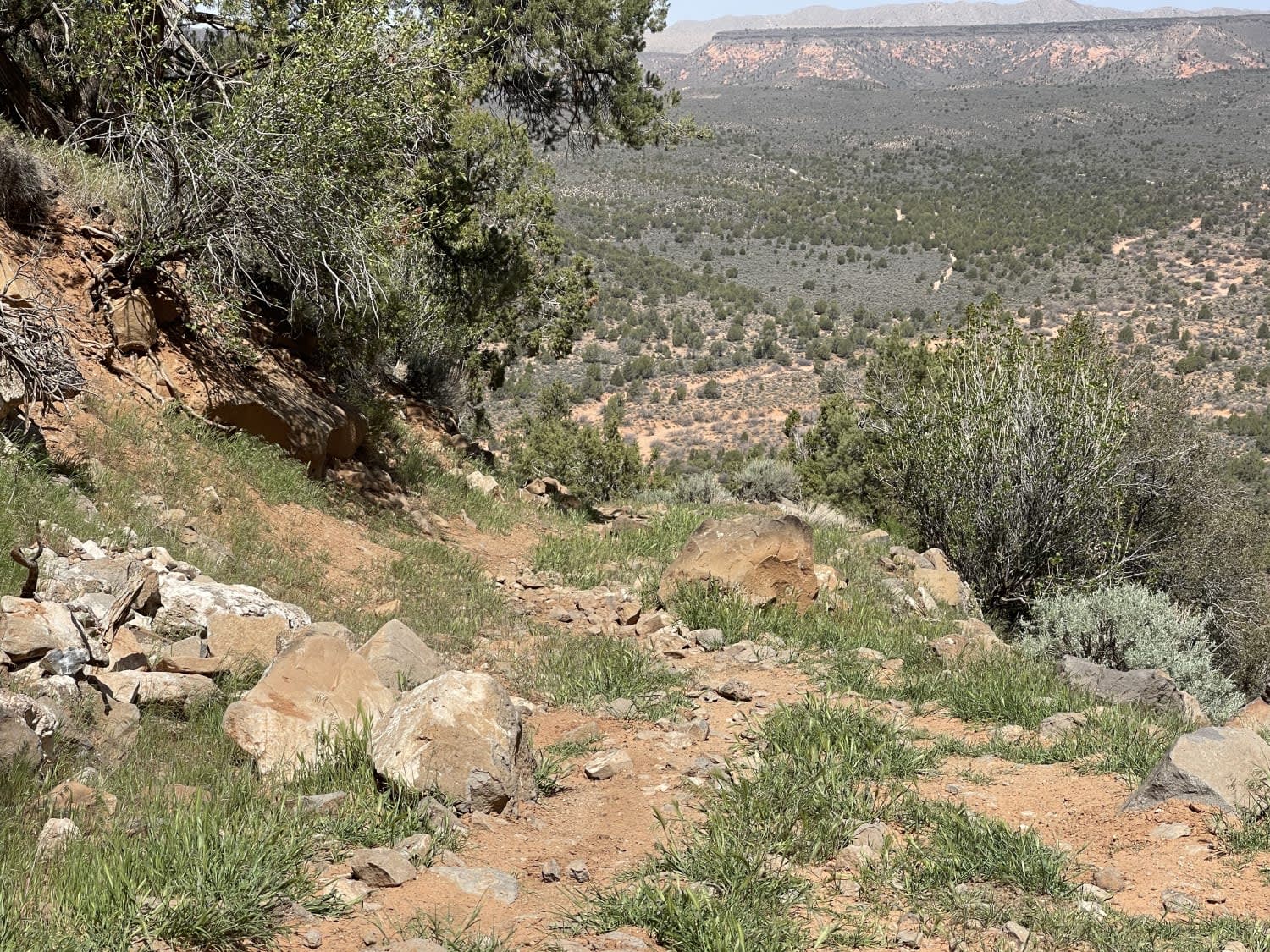 20
Trail Overview
This rocky run up the hill appears to have been neglected for quite some time. The trail is barely visible through the long grasses. Large boulders adorn the trail from many rockslides over the years. One section with two large boulders across from each other may be impassable for even a well-built Jeep. The rest of the trail up is very rocky; shelf road with a steep drop off and steep off-camber and very loose rocky climbs. Once through this challenging section, you will arrive at the top of the mesa. The views of the valley and surrounding area are epic. The fauna even changed to cactus and Yucca trees. There is almost no cell service in the park.
Difficulty
Two large narrow boulders close together on the hill climb may be impassable by larger vehicles, the shelf road is very narrow with off camber switchbacks, loose rocks and a very long fall off the edge.
History
A Journey Into The WildTake a lonely and rocky two-track road in a 4x4 to the edge of the Grand Wash Cliffs. Find a stunning solitary vista deep into the Grand Canyon. Relax in the shade of ponderosas at Mt. Trumbull. Touch ancient waters at Pakoon Springs in one of the driest places in the world. Parashant is remote. There are no crowds here. Be equipped to leave pavement, cell service, and the 21st century behind.Parashant is a scenic wonder, but it also is one of the last truly remote places in the United States. A visit here means leaving the safety net of the modern world behind.The information that follows is not designed to scare potential visitors out of visiting the monument but remind everyone that traveling into Parashant isn't to be taken lightly. Rangers want to be sure motorists understand that travel here requires specialized vehicles, equipment, and planning to avoid or recover from a mishap. The fact that you are reading this means you are on the right track as you prepare for a safer visit to the monument. Thank you! Please contact us at the number on the bottom if you would like to discuss with a ranger your particular equipment, skill level, and trip plans.You are responsible for your own safety, and you must be able to self-rescue. Appropriate vehicles and equipment in good working order and adequate supplies are critical. Roads are narrow and winding. Travelers need to be prepared for their trip and understand the guidance below. All routes are unpaved and of varying difficulty. While not prohibited, cars, minivans, crossover SUVs, and RVs are not suitable vehicles for travel in this monument.A high clearance 4x4 with tires designed for off-pavement use is the most important safety item you need. Most rescues involve vehicles with multiple flats where rocks ripped up tires only rated for street use. Other reasons include vehicles getting stuck in mud or high-centered on uneven roadbeds or vehicles suffering some kind of mechanical breakdown.Recommended Equipment and Supplies:Return plan filed with friend or relative and Parashant's contact phone numbers.24-hour EMERGENCY or MISSING PERSONS (702) 293-8998 (Lake Mead)Non-emergency (435) 688-3200 during business hours.Shovel to smooth off cut banks or dig out of the sandJack to lift vehicle with a base that can be set up on rocky or sandy groundAll-Terrain spare tireExtra food, water, and any needed medications to last several daysHot/cold weather clothingSatellite Phone or Satellite Messenger such as a Garmin InReach
Status Reports
There are no status reports yet for this trail.