Backcountry Skiing Mount Hood
Beacon Guidebooks has partnered with onX Backcountry. Find guidebook quality content for backcountry adventures in Mount Hood. Mount Hood has 19 zones to explore and 105 routes.
Publisher
Beacon Guidebooks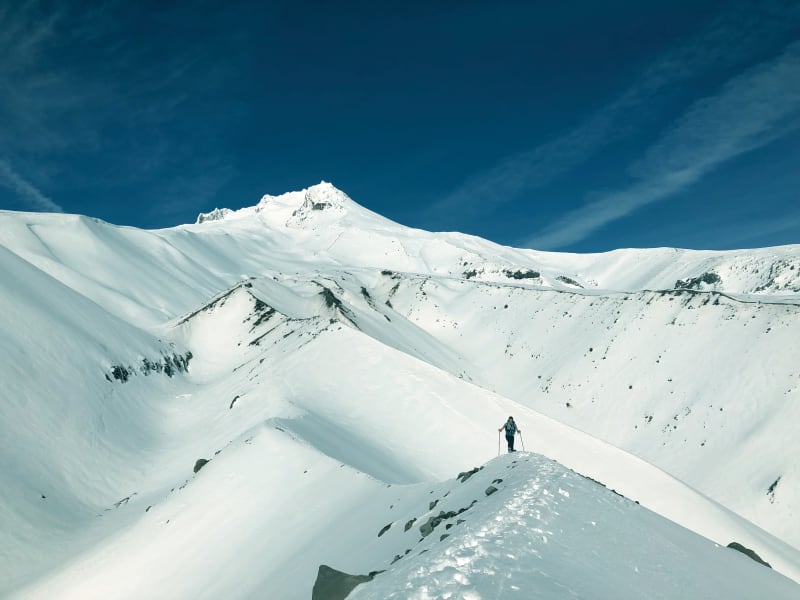 Mount Hood Overview
Mount Hood has captivated the imaginations of many in the Pacific Northwest for centuries. Named for a British admiral in the late 1700s, its native name has been lost to history. Lewis and Clark labeled Hood "stupendous" as they returned east on their epic journey, and that assessment rings true today. The first recorded ascent of Mt. Hood occurred in the 1850s, and the history of skiing on the mountain started with people on long wooden skis using them for transportation. The first recorded ski descent of the south side occurred in the 1920s, and skiing and mountaineering on Hood have been intertwined ever since. With the opening of Timberline Lodge in 1937, skiing on the mountain exploded in popularity. Mount Hood became renowned for backcountry skiing when Sylvain Saudan descended Newton-Clark Headwall on the east side of the mountain in 1971, a descent that heralded the arrival of "extreme skiing" in America. Backcountry skiing and riding has always been relatively popular on the mountain, as a stable snowpack and long season entice locals and tourists alike. As backcountry use has grown quickly in the past few years, Mount Hood remains a sought after destination for those looking for ski mountaineering descents, glaciers and hopefully - powder. The author and publisher acknowledge that the land surrounding Mount Hood lies within the ancestral territories of several Native American tribes including the Multnomah, Wasco, Confederated Tribes of Warm Springs, Confederated Tribes of Grand Ronde, and the Confederated Tribes of the Yakama Nation, who have looked upon and lived on this mountain for thousands of years.
Alpine Trail
The Alpine Trail zone functions as easy access to Timberline Resort and the upper mountain from the town of Government Camp. It's also a popular spot for beginners to hone their backcountry chops. The groomed Alpine Trail is part of Timberline Resort, and the Glade Trail is a mellow ascent that poses little avalanche risk. This also doubles as a training ground for backcountry skiers when avalanche risk and poor weather shuts down the upper mountain or steeper zones. While the ski descents aren't the most exciting on the mountain, the climb up to Timberline Lodge and the resulting reveal of the Hood crater is stunning, and adds vert for those looking for bigger days on the mountain.
Routes
Alpine Trail Approach
Glade Trail Ascent
Timberline Uphill Route
Glade Trail
Alpine Trail
Barrett Spur
A rarely visited outcropping, Barrett Spur holds good snow into the spring and early summer. The long approach makes this route feel like a secret—no one else will be out there. Both winter and summer approaches require some serious work that isn't typical on Mount Hood.
Routes
Approach from Elk Cove
Approach from Vista Ridge
Upper Barrett Spur
Barrett Spur Main Face
June's Run
Barrett Spur Exit
Bennett Pass
A safer haven during higher avalanche danger. Beginner's beach. Steep and cheap. Bennett Pass is all of these things. You probably won't be writing to your friends in Utah about Bennett Pass, but it gets the job done. Three short runs close to the trailhead provide a quick hit for those in need.
Routes
Bennett Pass Approach
First Glade
Second Glade
Third Glade
Bennett Pass Exit
Cooper Spur
It's been said that exposure reveals what lies within us all, and if that is the case, Cooper Spur will lay bare your deepest secrets. A classic ski descent, the upper section drops off 3,000' onto the Eliot Glacier below. This imposing face calls to the adventurous—just don't fall.
Routes
Approach from Timberline
Approach from Tilly Jane
Approach from Cloud Cap
Cooper Spur Summit Descent
Crater
For summit descents, the crater of Mount Hood presents the most easily accessible and skiable options. The crater is a unique ski mountaineering experience, with multiple climbs and descents on semi-glaciated terrain. In the right conditions, the descents in this zone are challenging yet approachable.
Routes
Standard Ascent
Pearly Gates Ascent
Old Chute Ascent
Hogsback
Pearly Gates
Old Chute
West Crater Rim
West Crater Rim Lower Descent
Illumination Rock
For some, this is just a transition zone to the upper mountain—but it has some truly worthwhile terrain. Illumination Saddle stands as a portal to the lesser-trod west side of the mountain, guarded by the stunning Illumination Rock. Crater Rock looms over Zigzag Glacier and Triangle Moraine, which has some perfect, wide-open skiing that feels plenty spicy after a 3,000' climb. A skin up through this zone for a sunset on Illumination is not to be missed.
Routes
Crater Rock Ascent
Illumination Traverse
Zigzag Glacier
Triangle Moraine
Uppper Zigzag Glacier
Lower Zigzag Glacier
Leuthold Couloir
The Reid Headwall and Leuthold Couloir present an imposing face of ice on the west side of the mountain. Only a short distance from the popular Illumination area, this zone feels wilder than the south-side routes. The Leuthold is a classic descent, featuring a couloir surrounded by ice towers that drops onto the Reid Glacier. The Reid is not typically skied, but there are options for the ambitious ski mountaineer.
Routes
Approach from Crater Rim
Leuthold Couloir
Reid Headwall Descents
Reid Exit