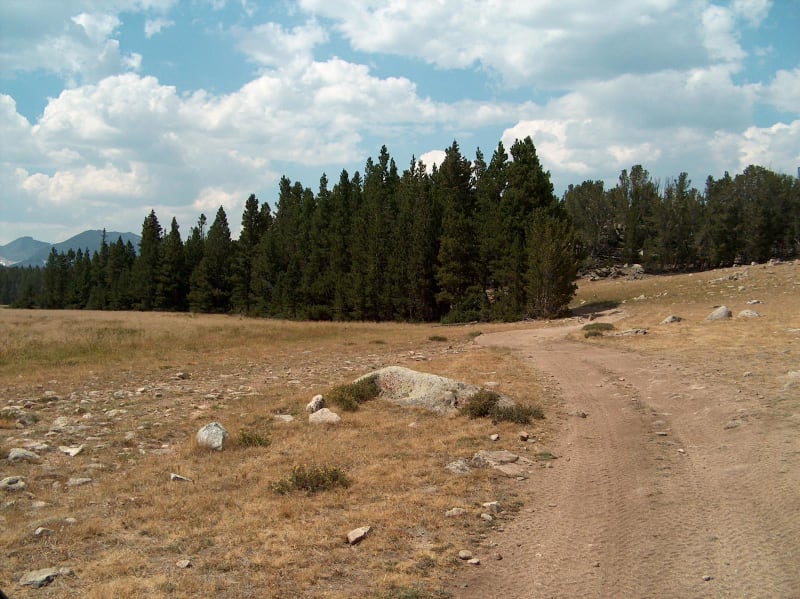 10
Trail Overview
This challenging route takes you to Gustave Lake and Christina Lake near the boundary of the Popo Agie Wilderness in the Wind River Range. The first few miles of this road follows a fairly smooth dirt path that can be handled by most 4WD vehicles, but usually only modified rigs and ATVs make it to the lakes. Past mile 5, and especially after mile 7, the road becomes strewn with rocks and boulders. There are some short but very steep muddy sections tangled with tree roots. The road ends shortly after fording the Little Popo Agie River near Christina Lake. Large snowdrifts at least several feet deep linger here into August, feeding the lake and outbound creek throughout the summer. Wind commonly blows across the water, bringing a chill to even the warmest of days. You can find Forest Service campgrounds along Louis Lake Road and plentiful dispersed camping throughout the forest. All vehicles must be highway legal
Difficulty
Varies from moderate to difficult depending on the vehicle being used and seasonal conditions. Drivers with full-sized stock 4x4 vehicles typically park several miles in and hike the remaining distance. ATVs and side-by-sides have little trouble with the rock-strewn path on the second hlaf of the route.
Get the App
Find Off-Road Trails
Unlock more information on Christina Lake.