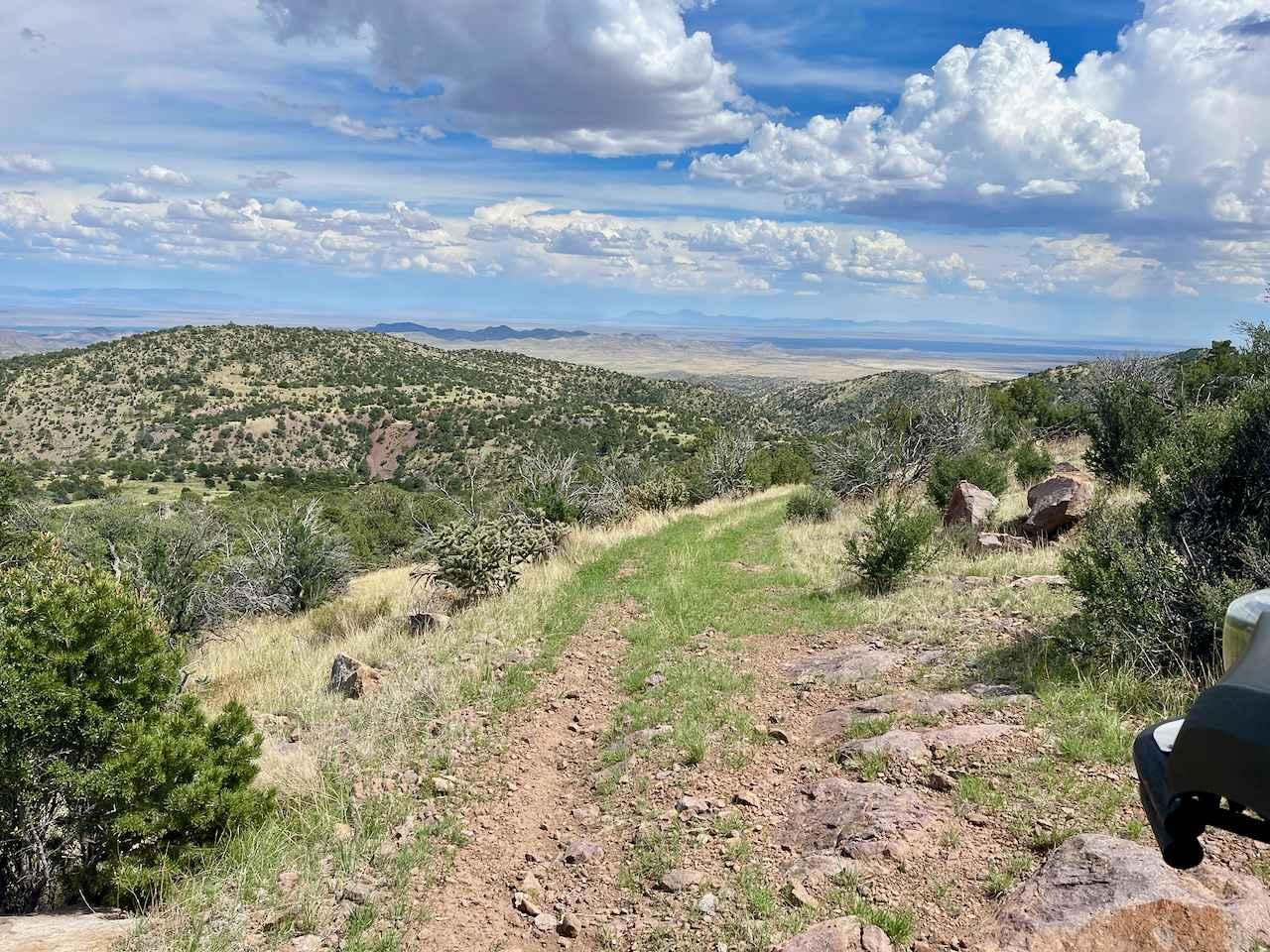 15
Trail Overview
The Molino Peak Trail is a short, 5.3-mile route that takes you up past an old manganese mine (The Manganese Chief Mine). It winds its way up an old two-track that becomes progressively rockier the higher up you get. There are plenty of places to get out and go explore the old mining areas and lots of white quartz scattered about. The route passes through BLM land into Cibola National Forest, and there are plenty of places to dispersed camp, including a couple of areas that could accommodate 3-4 vehicles. There are a few slot canyons worth exploring, though you should watch out for rattlesnakes in the warmer parts of the year. Be careful when exploring some of the old mining structures--there is always a risk of collapse.Further up the route, toward the end, the trail narrows with some tight turns, and there was evidence of broken side mirrors--probably from larger vehicles trying to push through. It is doable in a light truck or Jeep, but a UTV is most suitable on the final half-mile. The trail ends abruptly at a rock slide, and from there, it is a short hike to Molino Peak (8,920 ft) with some spectacular views down into the Rio Grande Valley--on a clear day, you should be able to see the mountain ranges on the east side of the valley.During the monsoon season, Torreon Springs Road (the road to the trail) has a few dry stream bed crossings that could flood if it rains. Best time to do this trail is summer and fall. Go early to avoid the afternoon storms. Round trip on the trail is only two hours, but pavement to pavement will add an additional couple of hours.
Difficulty
The first part of the trail is gravel roads that become rockier the higher up you get. Toward the end of the route (the last half mile or so), the trail narrows with tight turns. It is definitely passable by UTV; small trucks and jeeps might get some pin striping.
History
The trail was the access to some manganese mines in the Magdalena Mountains. A survey was done in the area from 1917 through 1918. Silver was one of the big ores being hunted for and can be found alongside manganese. In this area, the veins only produced manganese. Manganese is important for making clear glass and in the production of steel. The cost to transport the ore out of the area ultimately was cost prohibitive, and the mines ultimately shut down.
Technical Rating