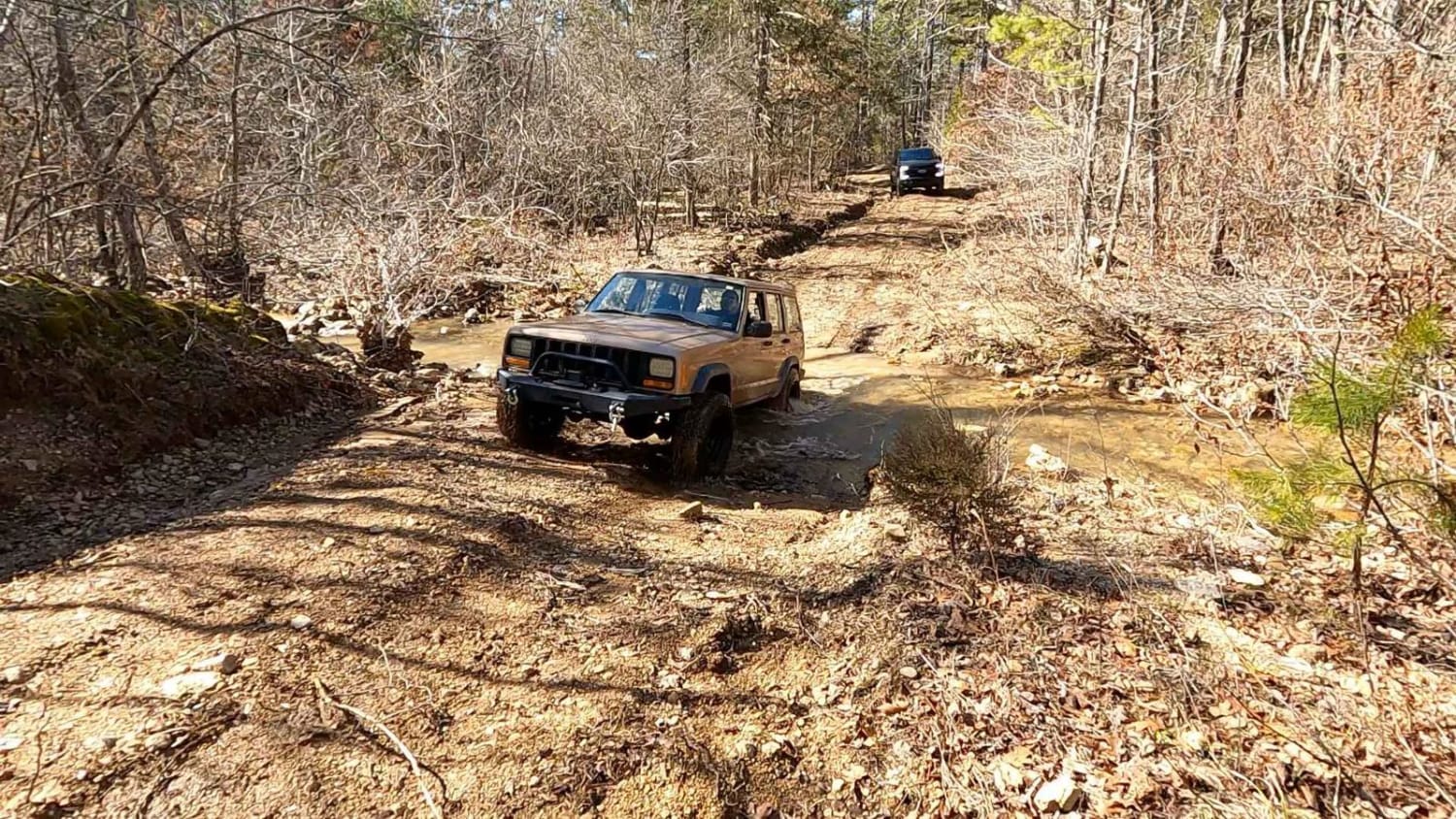 20
Trail Overview
Antioch FSR 2125 is a natural forestry service route tracking through the rocky terrain of the lower Fredericktown sector of Mark Twain National Forest. The precursor to the trail, the Madison County 410, features course creek gravel at it's base as it follows along Peters Creek, which adds a few low water bridges along the road. At the 2 mile mark you cross into the USDA land and it slowly shifts to be a fair mix of dirt, mud, gravel and rock. It features mild inclines and declines interlaced with small mud holes and more Peters Creek crossing points for the first mile of forestry land, then it climbs 150 feet up a moderate grade to a hilltop campsite and turn around. The trail used to be much more heavy rock based, but there is obvious signs that the trail has recently (2023) been graded by a dozer and logged, which cleared some of the areas trees, this said, the hill portion of the trail does have the potential to degrade to heavier rock once again, if left unmaintained.
Difficulty
The trail features multiple water crossings, anywhere from 6" to 18" deep, when at normal conditions, but could be deeper in heavier rains. The trail is a fair mix of dirt and course gravel, when wet the surface can have slick muddy sections that require a decent tire and momentum to push through. Mud holes are 6" to 18" in depth, and feature slight camber drop-ins and edges, the grades of the inclines are mild to moderate and feature loose gravel with heavy rock scattered along the path. Trees are tight along side the trail in areas but provide enough width for a clean single lane of passage throughout.
History
The unincorporated community the trail is located near is Zion, Missouri. North of Zion there is an old church named Antioch, with this limited info, the hilltop that the trail leads to, points to being called Antioch Mountain or Zion Mountain (1020ft tall, at 37.42789, -90.32376) not to be confused with Clemons Mountain south of the trail (1043ft tall at 37.41584, -90.33547).
Technical Rating