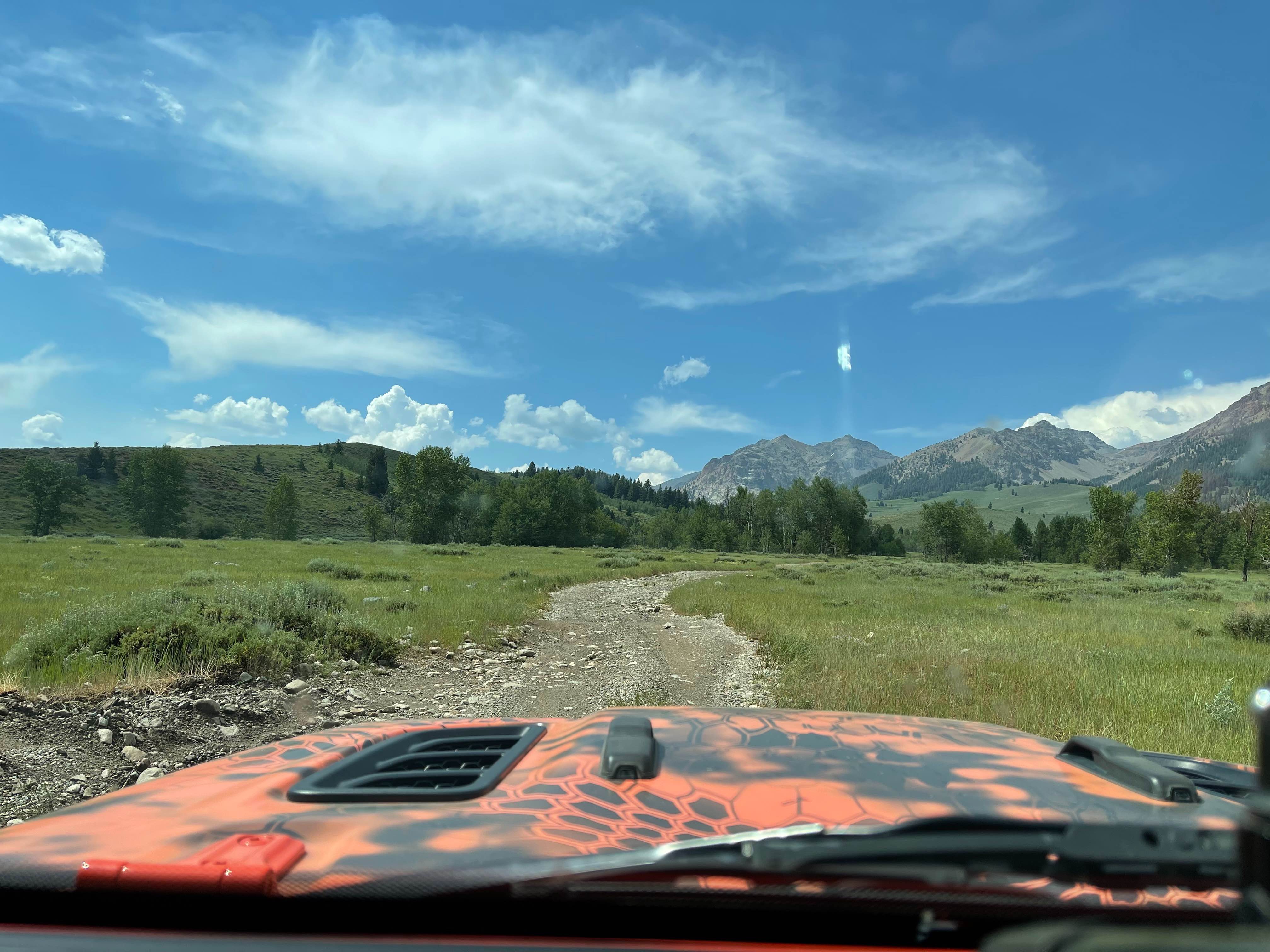 16
Trail Overview
This is a route to the Boulder Basin lake following Basin Creek. Along this route, you will see many old mining cabins. This is a very mild trail until you reach a shale climb. You have one large creek crossing at about mile 1 towards the beginning of the trail. Then you wind through a slow climb tree and slightly rutted area with roots in sections of the trail. Once you begin the shale rocky climb, this is the beginning of the intermediate trail section. You will start reaching some water on the trail and wind through some very pretty overlooks of the creek as it is now below you. Then you will reach a watered-down rocky section that is steep with large boulders. This is where momentum is helpful to smaller or heavier vehicles, especially without differential lockers. There is a bypass that winds to the right then back to the left. I would recommend at least 33-inch tires with a suspension lift of at least 2 inches for most vehicles. The bypass then joins the main trail again with a very steep and off-camber turn up the mountain. The turn includes about a 4-foot shelf on your driver's tire to climb. Lockers are helpful at this point to climb that wall. If you come up the main section, I again recommend you keep momentum and have front and rear lockers engaged. 37" tires seem to handle this section just fine. After this part of the trail, there are a few cool, watered areas of the trail leading to another obstacle if you choose to take it. Stay right at the large puddle before the creek here will keep you away from this obstacle. The obstacle is about a 5 ft drop into the creek from a rock wall. It is not difficult to go down but is a bit exciting. Once across the creek, you will wind through some meadows and reach a fork. There is a sign at that point. Stay right to explore the lake or take a left to see the remains of the mines. There is some very interesting history to this mine which I would recommend you google. There are still nails and bolts on the ground and trails near the mine and the cabins. If you go to the lake, it is very pretty and has a few cool hang out/camping areas. There are no fish in this lake, and the height at this point is around 10,000 ft. There are some cool mine shafts to explore, and I recommend bringing flashlights if you make that choice. There is a road that continues up the basin, which I would not recommend for anything other than side by sides or ATVs. There is another meadow up higher with some water and more mining areas, but nothing more than very pretty views to note. Being elevation of more than 10,000 ft and in a very steep-sided basin, this area is known for landslides and avalanches. I recommend not accessing this trail until the end of Spring, as well as having a winch and good recovery gear especially when traveling alone. There is a high volume of traffic on this trail during summer. Mostly hikers and SxSs or ATVs. Stay on the main trail as this does have a lot of private lands around the trail.
Difficulty
The difficulty rating is for the water rocky section which is creek boulders with no solid base. If you don't keep momentum or have very large great traction tires this is a hard section. There are at least two larger but not deep creek crossings. There are two Boulder walls or dirt off camper sections with walls from 2-5 Ft to climb.
History
I have been told the Clint Eastwood film "Pale Rider" was filmed in this Basin. I also believe there was some owner fraud back when it was built as a mine. I believe the story goes an owner built it up to look like a thriving mine and was able to sell it to an unsuspecting buyer. The previous owner than returned to his home Country overseas. Attempts to mine were not successful and the mine eventually failed. Definitely google this information if you want the full history. The mine or parts of the trail is privately owned.
Technical Rating