Beason Meadows 228 (Part 2)
Best Time
Fall, Spring, Summer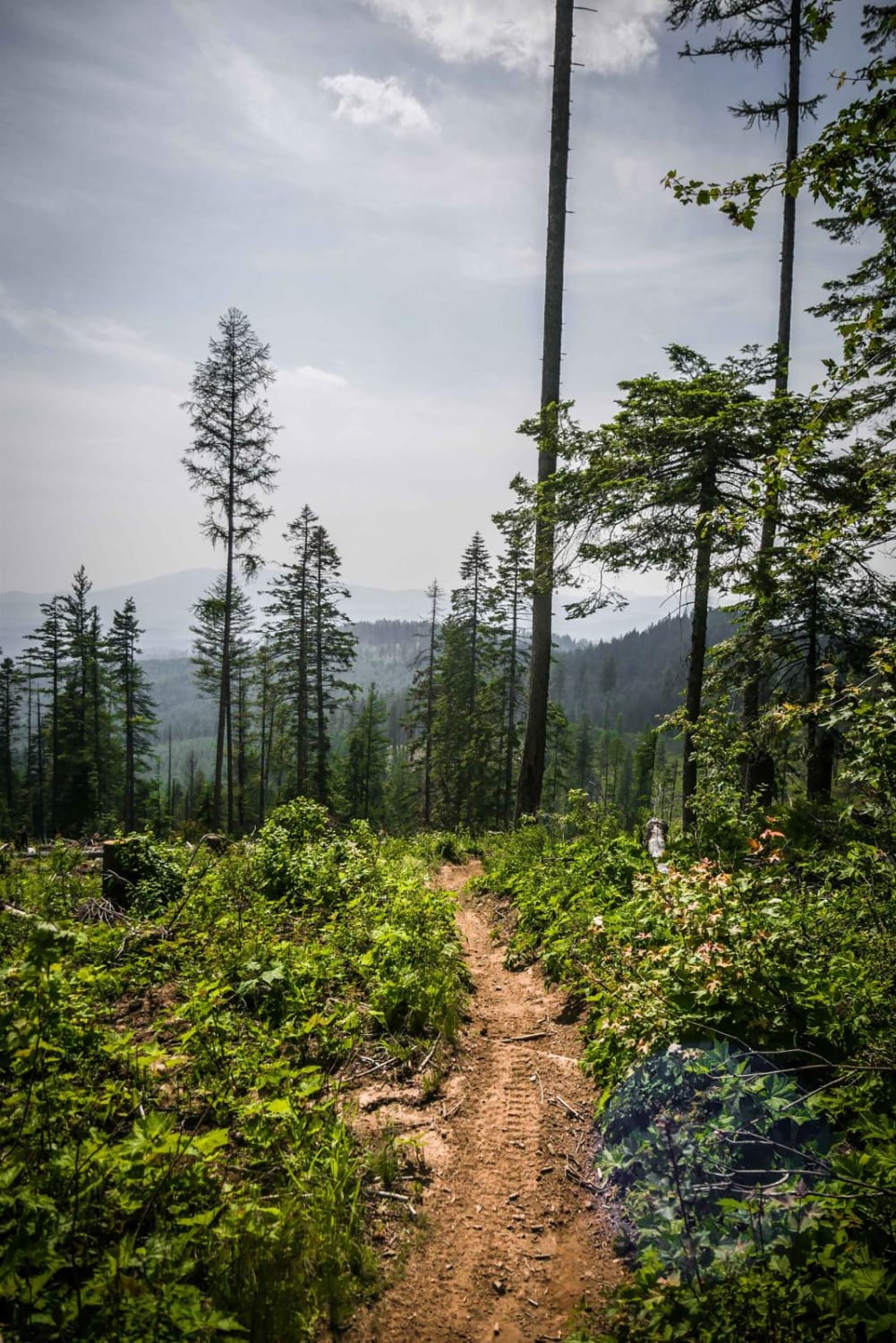 10
Trail Overview
Beason Meadows is an intermediate single track in the Giant White Pine trail system that runs all the way from the Giant White Pine trailhead and campground off of Highway 6, to the Beason Meadows ATV trail, which takes you to the top of Bald Mountain and to 5,300 feet elevation with a lookout tower. This is one of the longer trails in the system and has moderate challenges such as narrow shelfy sections with small roots, and tight switchbacks. There is a reroute near the north end of the trail when it crosses White Pine Gulch Road due to downed logs from logging activity in the area. The reroute goes through a clear-cut area with lots of tree stumps and dumps you onto White Pine Gulch Road. The trail starts again on the left after a quarter of a mile on the dirt road at a signed intersection. The trail goes through a mix of terrain including through the bottom of the forest floor on an easy and wide dirt single track, through clear-cut ridge lines with expansive views, and narrow shelfy sections that are either gradually climbing or descending. Some of the climbs are steeper, and there are several tight switchbacks throughout the trail. Only one or two of the switchbacks is notably steep. The trail has lots of gradual curves and small climbs/descents. Overall it climbs 1,500 feet from the trailhead to the White Pine Gulch Road. Going downhill the trail has lots of brake bumps and small roots, but the trail is still relatively wide and easy. There are several road crossings throughout the trail, and one short section of the trail is almost as wide as a road or ATV trail. All of the intersections are really well signed and there are sometimes even little stop signs to alert you of the road crossings coming up. The trail and this forest are really well maintained. There are cinderblocks or rubber in the ground during some of the downhills to prevent erosion and wooden bridges over the creek crossings. The forest is really healthy here so there are hardly any downed logs, and if any, they are already cut. Overall this is a really fun trail and one of the highlights of visiting this trail system is getting to the top of Bald Mountain to see the lookout tower.
Difficulty
Intermediate difficulty for narrow sections and switch backs, but not many rocks.
Status Reports
There are no status reports yet for this trail.