Georgia Traverse
Best Time
Spring Summer Fall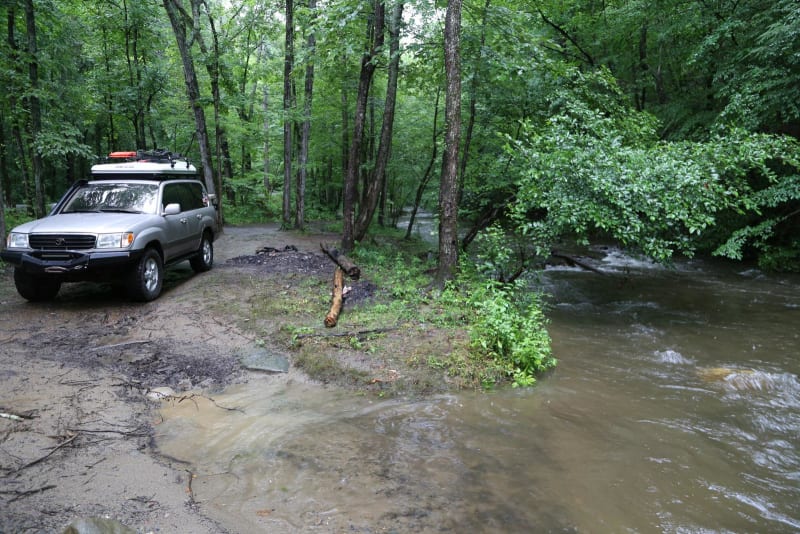 75
Trail Overview
Anyone who's heard a country song can probably picture Georgia. It's a land of green hillsides, charming southern towns dotted with white picket fences, and sunny fields tied together by red dirt roads. It's tough to find a more ideal pairing than that for a good voice and an old guitar, yet contrary to what those songs may have you believe, the dirt roads here are in ever-shorter supply. These days construction teams quite literally pave the way for new growth, but if you know where to look, you can still explore the wonders of the Peach State with the crunch of gravel beneath your tires along the Georgia Traverse. This 390 mile tour of the state's northern highlands was developed by David Giguere, and took several years to piece together. It winds its way through the rolling hills and misty peaks of the Appalachian mountains, dips through the dense forests of the Chattahoochee, and hops from town to small charming town. The trail is designed to be traveled east to west, beginning at Burrells Ford Road along the Georgia / South Carolina border, and visiting North Carolina and Tennessee before ending at the Georgia / Alabama border. It is largely an easy drive, composed of county, state and Forest Service roads, however weather can rapidly deteriorate road conditions, and some of the river crossings can be dangerous when not taken seriously. There are also numerous side routes that pose a greater challenge. Note: At the time of writing this, Tray Mountain Rd was closed for reconstruction. Be sure to check current conditions before leaving. Many dispersed camping sites are available throughout the trip, but you can also find developed campgrounds or even quaint Bed and Breakfasts. While the trail itself may be your destination, we recommend stopping by a few of the towns along the way, especially Helen, a Bavarian-style town with excellent food, festivals, fly-fishing, and many other attractions. Important Information As always, be sure to follow the Tread Lightly and Leave No Trace principles when traveling along the traverse. We are fortunate to have these public lands and roads to explore, and it's our duty to leave them in better condition than we found them for future generations. Do not drive this route when muddy, pack out what you pack in, and always stay the trail. Special care should be taken to minimize impact on any stream crossings. Do not stop in the water, do not enter at high speeds or make large waves. While they are legal roads, these sections are also delicate and should be treated as such. We'd like to take a moment to express our gratitude to the people who made this trail possible. A huge thank you goes to David Giguere for not only creating this amazing route over the last ten years, but also sharing it with the public so other can experience it as well. The team at the Chattahoochee-Oconee National Forest also deserves a round of applause, and their maps, reference data, and support through David's research were invaluable in bringing this experience to life. Finally, we'd like to thank Nolen Grogan for his excellent documentation of the journey, and the photos which he provided. We hope you enjoy this route and the memories you make along the way!
Difficulty
The majority of this trail is comprised of forest and county roads making it quite easy, however a few river crossings and optional side roads can pose greater challenges in poor weather.
Get the App
Find Off-Road Trails
Unlock more information on Georgia Traverse.