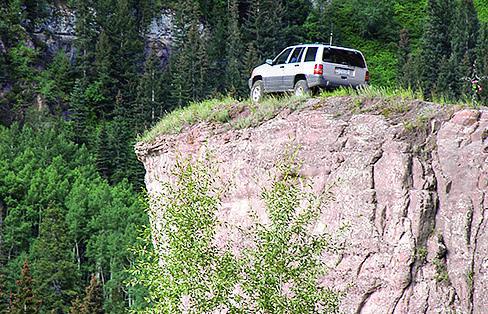 14
Trail Overview
You'll be treated to breathtaking views and unique history on this popular nature trail. Points of interest include the Drinking Cup, Twin Falls, Atlas Mill, Camp Bird Mine, and the rock overhang. There are designated camping areas available, and it is open to all vehicles from May 1 to November 11.
Difficulty
Difficult. The lower portion of the trail is easy. Beyond the toilet, the trail gets rocky, narrow and steep, but is suitable for aggressive, high-clearance, stock SUVs. A gate for the upper portion of the trail is closed until the snow melts, usually in late June or early July.
History
You'll pass tailings of Camp Bird Mine as you climb. In its heyday, this mine had advanced creature comforts, including hot running water, electric lights and steam heat. It was discovered in 1896 by Tom Walsh, who felt that the 400 miners who worked there should be treated to a decent lifestyle. He required only eight hours of work per day rather than the standard 12. He sold the mine in 1902 for $5.2 million. The mine continued to operate until 1911 and made over $26 million.
Technical Rating