West Side Road - DVNP
Best Time
Spring, Fall, Winter, Summer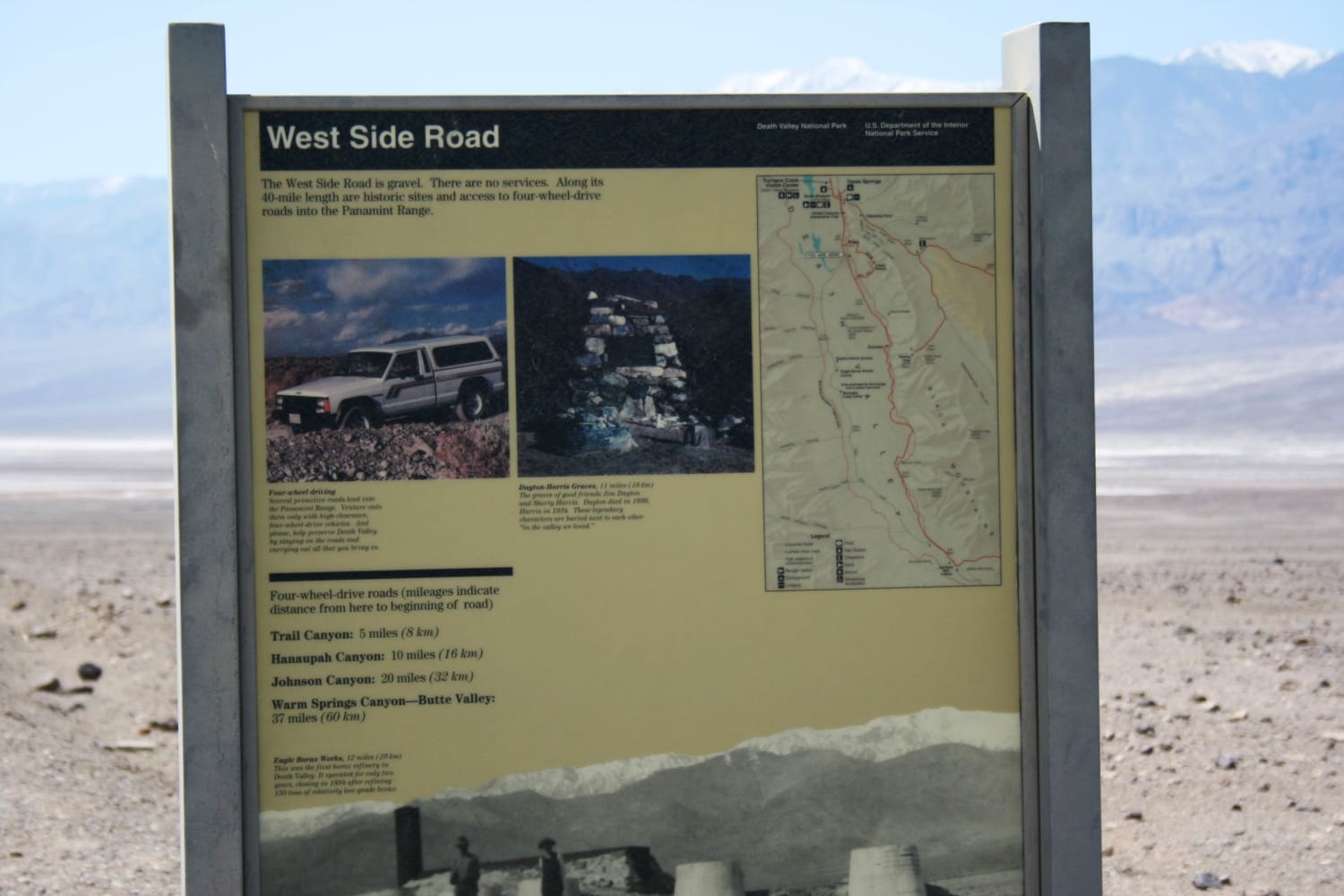 5
Trail Overview
Easy route around the west side of the dry lake bed in Death Valley. This route offers a different, and remote, perspective of the Devil's Golf Course and Badwater Basin. The route starts about 11 miles north of Badwater Basin and continues for 40 miles ending near Ashford Mill Ruins. Eagle Borax Works site, Shorty's Well, the Jim Dayton-Shorty Harris Grave, and Bennett's Long Camp site can all be found along the route. Bennet's Long Camp was the location where the Bennett-Arcane party camped for a month before making their escape in 1850.
Difficulty
This is a flat and easy 40 mile route. As always in a desert environment, watch the weather as flash flooding can occur with little to no warning. This route is relatively well trafficked. If you are a complete novice, renting a Jeep, or have a cross-over type of vehicle, this is an ideal route. NOTE - this route does flood and can be closed by NPS.
History
Part of the historic routes taken by the '49er families in their attempts to take a shortcut to California and needing to escape the clutches of the hostile environment they found themselves in - now named by them "Death Valley". This route has Bennett's Long Camp site where the Bennett-Arcane contingent of the forty-niners were stranded for a month and nearly died of starvation. Two of their members, left on foot and made it to San Fernando. They gathered supplies, and returned on foot to rescue the party and lead them out of the valley via The Escape Route.Also on this route are the graves of Jim Dayton and Shorty Harris. Be on the lookout for historical markers as you drive.
Technical Rating