Mountain Creek Trail
Best Time
Spring Summer Fall Winter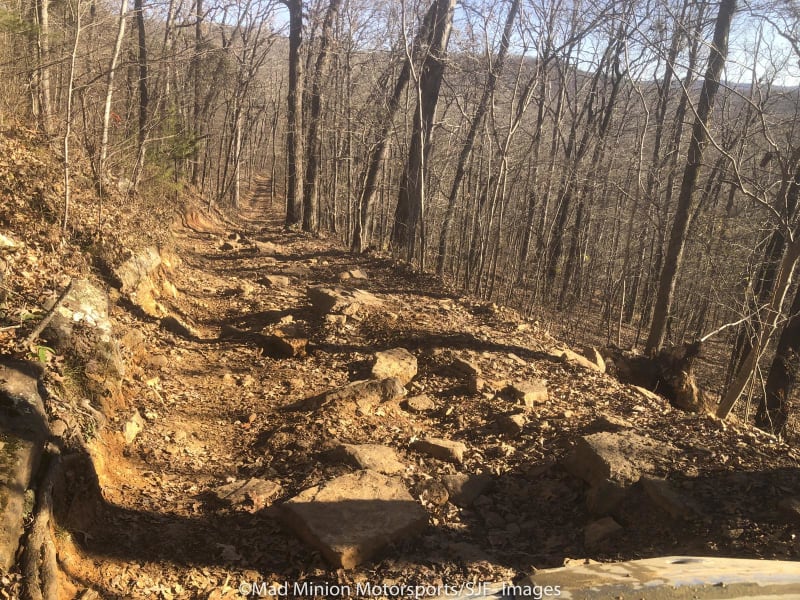 22
Trail Overview
Mountain Creek Trail has fun and varied terrain from top to bottom. The original designated trail has changed significantly as the forest service has moved the trail from the original map coordinates. The designated trail at the southern end is in a creek bottom and is very muddy. Several paths have been created to bypass the deepest ruts. Many of these are very deep and require a significant lift. This area is never dry. The trail follows a creek that can be deep when significant rain has fallen. The middle and upper part of the trail is very narrow, rutted and rocky from erosion and use. Expect off-camber climbs or descents. Long wheelbase 4x4s will find this challenging due to the tight turns around obstacles. There is another muddy area with deep ruts near the top of the trail. This area does have a bypass that is not designated. During wet weather, this area can have 4-foot deep mud bogs. At the top of the Trail is East Fly Gap Road. From there, you can access many other trails. Be prepared when traveling this trail. A winch and recovery equipment is highly recommended.
Difficulty
50% of this trail is fairly easy. The difficulty is in the narrow approach and departures for 4x4s. The muddy areas on both ends can be very difficult, as they have become very deep and getting high centered is common.
Get the App
Find Off-Road Trails
Unlock more information on Mountain Creek Trail.