Klaner and Doolin Pits
Best Time
Spring, Summer, Fall, Winter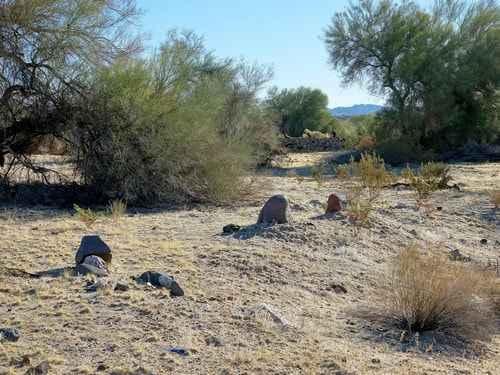 9
Trail Overview
Follow the track along the south side of the tracks and stop at the waypoint for Hobo graves. Continue along the south side of the tracks, cross over to the north side and view the site of the old siding. There is a concrete slab that was likely the station house. Head north and watch for an interesting hill with multi-colored rocks. Turn left and drive to a small mine at the base of the hill. A brightly colored formation is visible as you return from the mine. Turn right and climb up to the Klaner and Doolin Pits. The road to the pits has a washout. Doing the loop counterclockwise requires you to climb the obstacle shown. This is on the far right of the opening photo. You can do the loop clockwise, stop at the top of the hill above the obstacle, and only miss a few hundred feet of the trail. Of course, you also miss the fun. The loop will take you through several mining areas and give you great views in all directions.Approximately 40 percent of the kaolin produced is used in the filling and coating of paper. In filling, the kaolin is mixed with the cellulose fiber and forms an integral part of the paper sheet to give it body, color, opacity, and printability. Kaolin is used extensively in the ceramic industry, where its high fusion temperature and white burning characteristics make it particularly suitable for the manufacture of whiteware (china), porcelain, and refractories. Return to the bottom of the hill and either return to I-40 the way you came in or go north and do Warm Springs. We do not like the Warm Spring loop but many people do.
Difficulty
Uneven, rutted dirt trail with loose rocks, sand, erosion, and washes. Potential water crossings up to 18" deep, mud holes, and obstacles up to 2 feet, including ledges and short, steep grades.
History
This short trip has some unusual attractions. Visit hobo graves, see the Franconia railroad graveyard and loop around an abandoned kaolin mine. Kaolin, also called china clay, soft white clay that is an essential ingredient in the manufacture of china and porcelain and is widely used in the making of paper, rubber, paint, and many other products. Kaolin is named after the hill in China (Kao-ling) from which it was mined for centuries.Franconia, Arizona is a derelict railroad siding stop, formerly the site of a section house for the Santa Fe Railroad. Hobos camped on the south side of the tracks and the siding was on the north side.
Status Reports
There are no status reports yet for this trail.