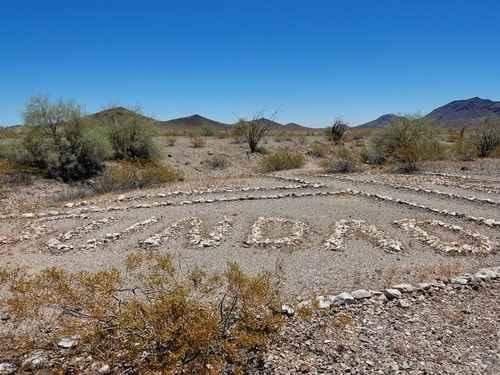 7
Trail Overview
Loop the Gila Bend Mountains while visiting the Gillespie Dam and Bridge plus Sundad Ghost Town.Start this run in Gila Bend then go north up the Gila River Valley on historic US Route 80, which originally ran from Tybee Island, Georgia to San Diego, California. Visit Gillespie Bridge and Dam on the Gila then make a big loop around the Gila Bend Mountains to see Sundad Ghost Town. End your trip on I-8 about 30 miles west of Gila Bend. There is a long stretch of open desert as the well-graded road stays mostly north of the Gila Bend Mountains. The eastern part is well north of the mountains while the western part traverses a lower portion of them. Just look at the opening Google Earth view! "Sundad" is spelled out several times, and there are circles, diamonds, wheels, flowers, sunrises, arrows, and many other designs. Pretty cool! NOTE: The spur into Sundad is a higher difficulty than the rest of the trail.
Difficulty
Uneven, rutted dirt trail with potential for loose rocks and sandy washes. Water crossings less than a foot deep. Potential for mud holes and trail obstacles up to 12", including ledges and short, steep grades. Roads are typically one vehicle wide with places to pass.
History
The Gillespie Dam Bridge opened in 1927 and has been in use since that time. It was restored by Maricopa County in 2012 and was made part of Historic US 80 in 2018. In 1993, a violent flood on the Gila River destroyed the Gillespie Dam. The surge of water also caused minor damage to the bridge by causing some of its support piers to settle. However, due to its strong steel truss design and the fact the concrete support piers were sunk into the bedrock, the bridge didn't collapse. The Gillespie Dam was constructed during the 1920s for primarily irrigation purposes. A portion of the dam failed unexpectedly in 1993 during unusually heavy rains.
Technical Rating