The Drill Grounds Memorial Trail
Best Time
Spring, Summer, Fall, Winter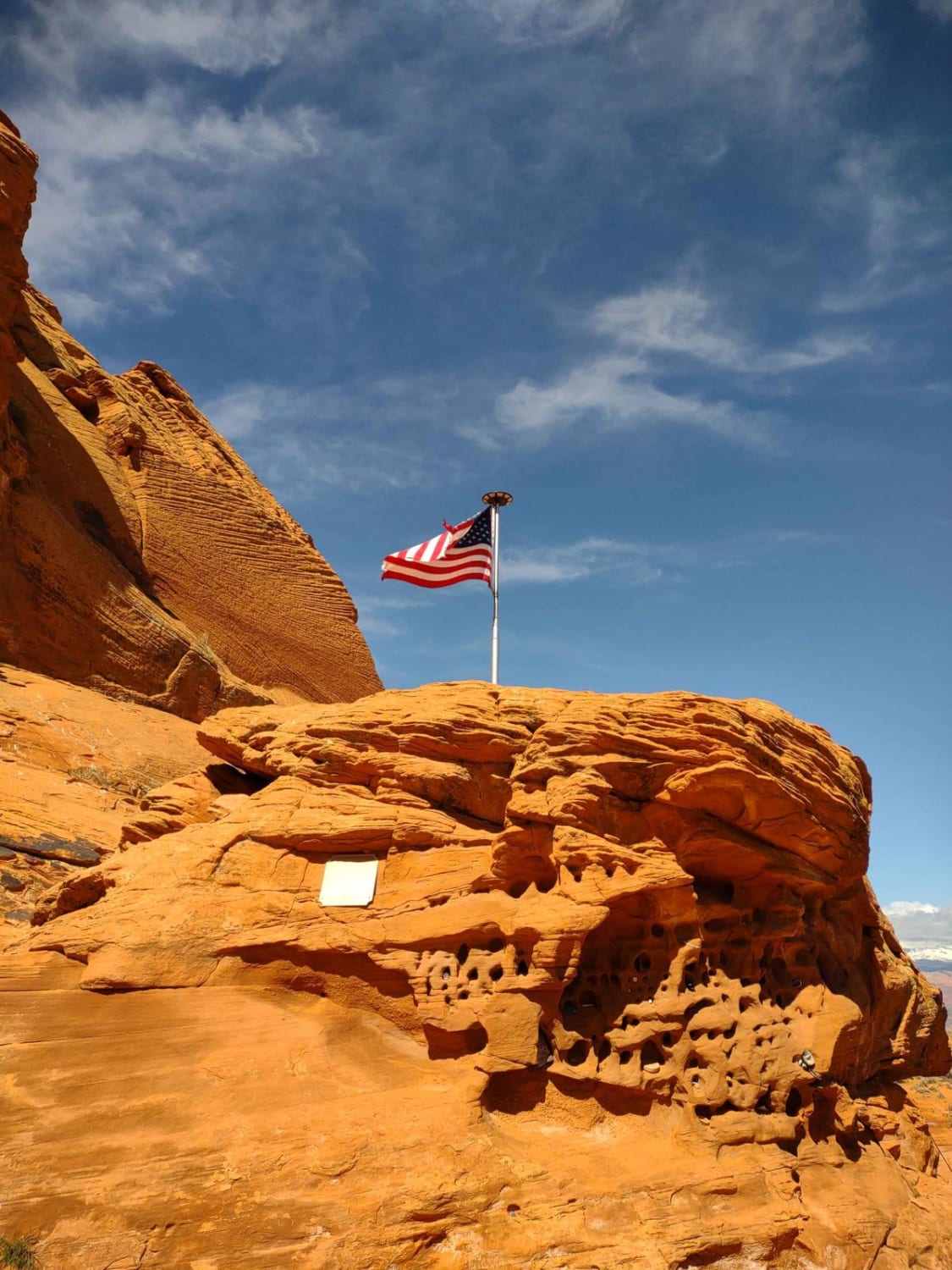 13
Trail Overview
This is a short trail that parallels The Fallen Trail (The Fallen is rated a 10), and it maps an easier way to get to the Drill Grounds Memorial. This feature in Sand Hollow State Park is hard to find unless you know where it is, so we wanted to give everyone an opportunity to find it, stop by, and to honor those who have fallen in service to this great nation. From the highest elevation point on this track, look to the west. If you find the American flag standing above the rocks, you're in the right place. Walk around the formation on the north side to find the stairs. This is a privately funded memorial owned and maintained by Hero For a Day. They do take donations if you want to support the work, and it's an amazing place, nestled in the middle of a slick rock formation. There are benches for the Navy, Air Force, Army, Marines, and Coast Guard if you want to sit and reflect on the sacrifice so many have made to protect our freedoms. There are weather-worn holes in the rocks where people leave coins, hats, and other memorabilia. It's a special place, and we encourage everyone to visit. As you can see from the photos, there have been steps carved into the stone and handrails placed to make access safe for everyone. You can ride this trail in just a few moments, but plan on spending a bit of time in the memorial. Starting Feb 2023, Utah began enforcement of its new law, which requires an online education course for all off-roaders. The free course is available online. Google "Utah OHV Education Course," and the free test will pop up. It's an easy test that will only take 15-30 minutes, and it's required for all off-roaders, Jeeps, SXSs, dirt bikes, and ATVs. Kids under the age of 18 will have to take the Youth Education Test at the same site. After completing the test, print out the certificate to carry with you which shows you completed the course. We have taken it, and it's really no big deal. Good reminders about trail etiquette and trail preservation.
Difficulty
This is an easy trail on the sand. It parallels a harder trail called The Fallen (rated 10), and if you get into the rocks on The Fallen, there are places to get back out onto this trail if you need to. Nothing too difficult.
History
This memorial is owned and maintained by Hero For A Day, an organization that works to provide and protect motorized access to public lands for veterans and special needs individuals. This memorial is dedicated to the members of the Armed Services who gave their last full measure of service to this great country.
Technical Rating