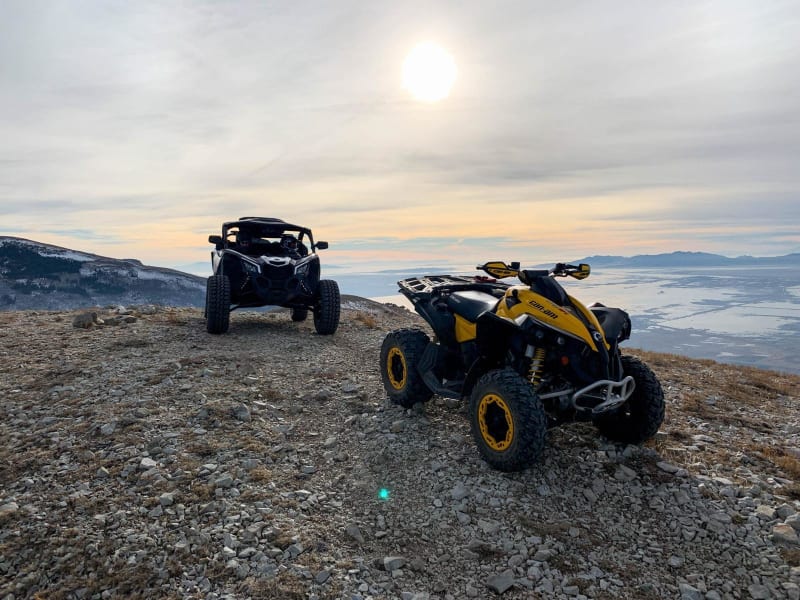 9
Trail Overview
Dunns Canyon is a really cool ride located just outside of Brigham City, Utah. It gives great views of the Great Salt Lake and the Wellsville Mountains. This trail climbs to Perry Peak and to an old ranch cabin, now called Old Pete's Cabin, which is above the town of Mantua. This trail is accessed from the easy fire break road between Brigham and Perry. Once you leave the fire break road, the trail is not for beginner riders or beginner machines under any circumstances. The trail climbs quickly and is very steep. There are areas that will make even a seasoned rider think twice. 4x4 is a must. The climbs here are very steep, very loose and mandatory. There are also no turn outs. Rollovers would be very easy. You also need to be on your guard because there are many side trails, some of which can get very difficult, very fast. Know your limits, and this is a fun ride. Open to all vehicles. Full size vehicles will struggle immensely and could be very dangerous. Recommend using only ATV, UTV, or experienced dirt bike. This area is not suitable for large trailers. There is nowhere to turn around, and the lot is very small. This trail is usually pretty quiet, but the lot can fill quickly during hunting season.
Get the App
Find Off-Road Trails
Unlock more information on Dunns Canyon.