Meadow Ridge Loop
Best Time
Spring, Summer, Fall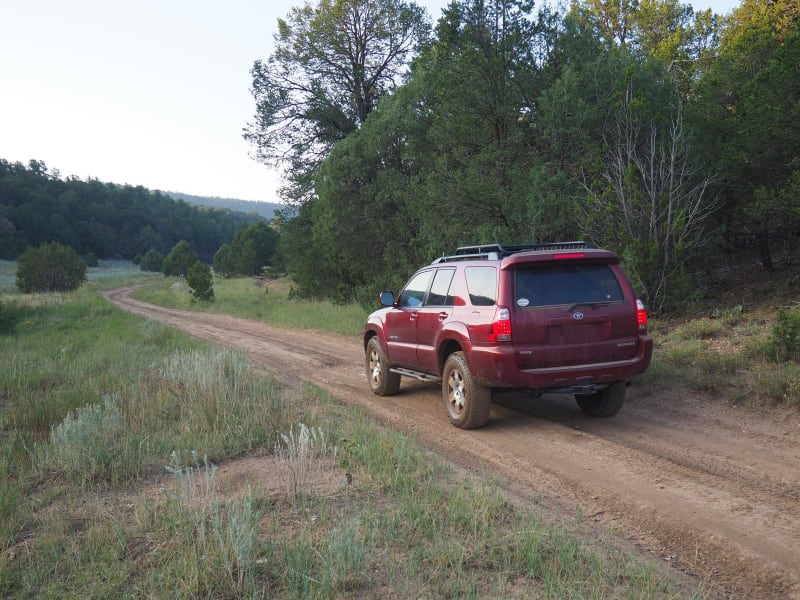 22
Trail Overview
Meadow Ridge Loop is a part of the Cedro peak network of trails in the south half of the Sandia Ranger district. This trail has some areas with significant challenges for stock vehicles, including one major obstacle with no bypass, which can easily damage rocker panels without rock sliders. It also features multiple sections of slopes with loose rock and ledges of varying size in tight spaces that make line selection challenging.The meadows for which the loop is named provide long views into the heart of the Monzano Mountains. In the late summer and fall, these meadows have wildflowers that provide excellent picture opportunities. When driving this trail, pay close attention to posted signs regarding private land. The first part of the trail winds through several private land areas that are poorly marked. Best practice is to follow the instructions of any posted signs. Additionally, proceed with caution during rain and other adverse weather conditions. The dirt that makes the base of several sections of trail will quickly turn into slick mud with any kind of precipitation. The trail is usually closed in the winter, due to potential damage by large tires on the wet/icy trails. For those with lifted rigs living in Albuquerque, this trail is a great half-day exploration, especially if you add the spur-off to Cedro peak.
Difficulty
About 40-50% of the trail is easy, with nothing more than ruts. However, the Meadow Ridge Road portion of the trail has an extremely difficult obstacle. Additionally, the descent back to the main trail features multiple rock shelfs and long sections of road bed that are loose rocks.
Get the App
Find Off-Road Trails
Unlock more information on Meadow Ridge Loop.