Udell Fire Tower- FS 5207
Best Time
Spring, Summer, Fall, Winter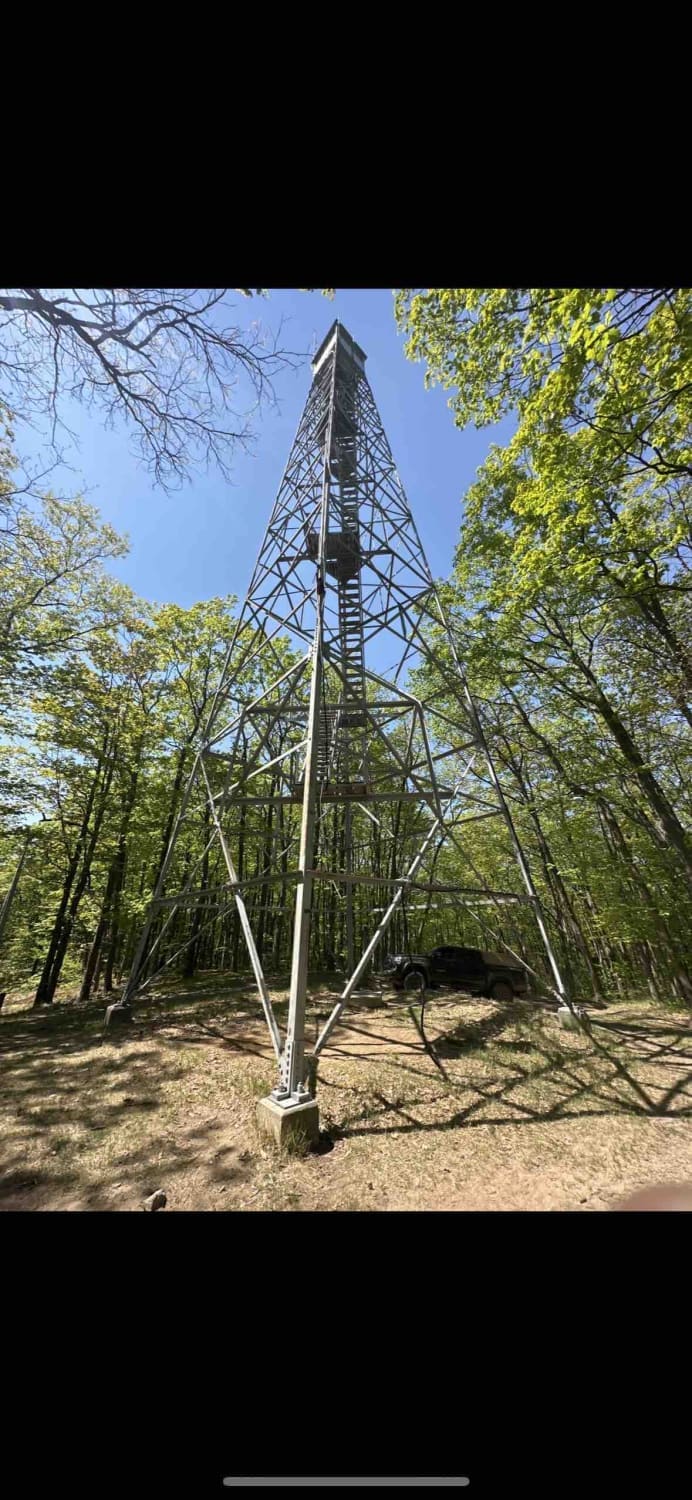 5
Trail Overview
This is a well maintained gravel road that sweeps through the Manistee National Forest. The route leads to the last standing fire tower in the lower peninsula of Michigan. As you ascend the 315 ft up Udell Hills you will be met with some great scenery of the surrounding wilderness. At the top there is a big open turn around to park and get out. There are some signs that highlight information about the history of the tower and of the fire control systems that used to be used in the National Forest. When you park it will be just a short walk to the base of the tower that sticks 100 ft above the ground overlooking the forest. This tower is significant because its the last remaining tower out of several throughout Manistee Forest. At the parking area you will also have cell service and this would be a great spot to set up for lunch. Please Note... There are signs asking visitors not to climb the tower as well as barbed wire wrapped around the base. Please do not use the tower in a way that is not intended.
Difficulty
This is a very well-maintained gravel road that is smooth and drivable in any vehicle.
History
The Manistee Purchase Unit, established by the National Forest I Reservation Commission in 1933, became the Manistee National Forest in 1938. Due to previous land utilization, fire was a constant threat and a fire control plan was created and implemented in 1936. As part of this fire control plan, the 100-foot tall Udeir Tower was built as part of the primary fire control system. The primary fire control system had fire towers with a range of 8-mile radii coverage. Three additional primary control towers were erected in Grant, Irons and Red Bridge. The secondary or emergency system had fire towers with a 6-mile radii coverage (i.e. Boon, Caberfae and Wellston, etc.).The Udell Lookout Tower remained in service as a primary fire control tower through the mid 1960's. Staffing at the Udell Tower was discontinued when aerial observation flights became the main method of fire detection by the Forest Service in Michigan.The Udell Tower is listed on both the National Historic Lookout Register (1990) and the National Register of Historic Places (1996); and is the last standing, intact fire tower of its kind remaining within lower Michigan.
Technical Rating