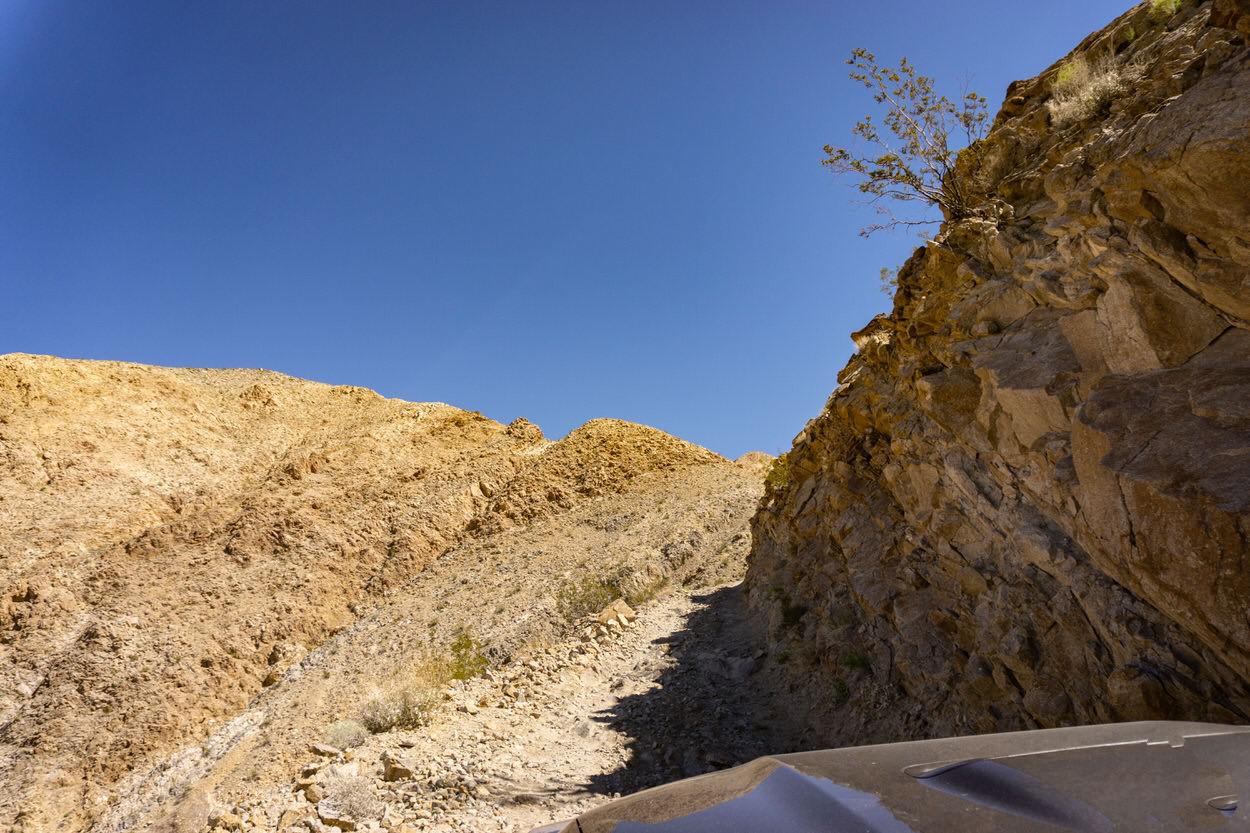 9
Trail Overview
This short but steep trail links Saline Valley and Racetrack Valley. The shelf trail is famously narrow as it winds through Last Chance Range with a number of off-camber sections, rock gardens, and tight turns. 4WD is mandatory and long wheel base or top heavy vehicles are not advised without previous experience. The approach to Lippincott Mine Road from the bottom starts at its intersection with Saline Valley Road near the south end of Saline Valley. The road heads east from the intersection along a downward straight track leading to the base of the Last Chance Range and the bottom of Lippincott Pass. The straight section of road is well worn into the landscape and has a number of sharp rock sections that could create a sidewall puncture. Stick to the defined ruts to best avoid a flat tire, and moderate your speed to allow enough time to maneuver around larger rocks. At the base of the mountains, the trail becomes less rocky as it turns north and heads uphill. About 4 miles in, the trail gets to its narrowest section as you climb along a canyon into a series of sharp switchbacks. An outside spotter is recommended through the rock garden and the switchbacks immediately following. The trail continues to climb with great views of Saline Valley behind you and views of the Lippincott Mine on the right as you approach the top. The trail ends at the Lippincott Pass sign and the intersection of Racetrack Road with a beautiful view of Racetrack Playa below to the north. The trail can be travelled either direction, and use of VHF radios are highly recommended to call out positions for opposing traffic. Most 4x4s will monitor the 146.460Hz frequency in the Death Valley Area. If approaching from below, relay an uphill message before mile 4 as there will be no way for vehicles to pass between miles 4 and 6. Like much of Death Valley, this trail has no cell coverage.
Difficulty
Numerous off-camber sections, switchbacks and a small rock garden along a shelf road make this trail moderate to difficult depending on vehicle size.
History
Lippincott pass was originally an access point for Lippincott Mine, located on the southwest corner of Racetrack Valley. Originating as far back as 1906, the mine produced lead and silver ore into the 1970's.
Technical Rating