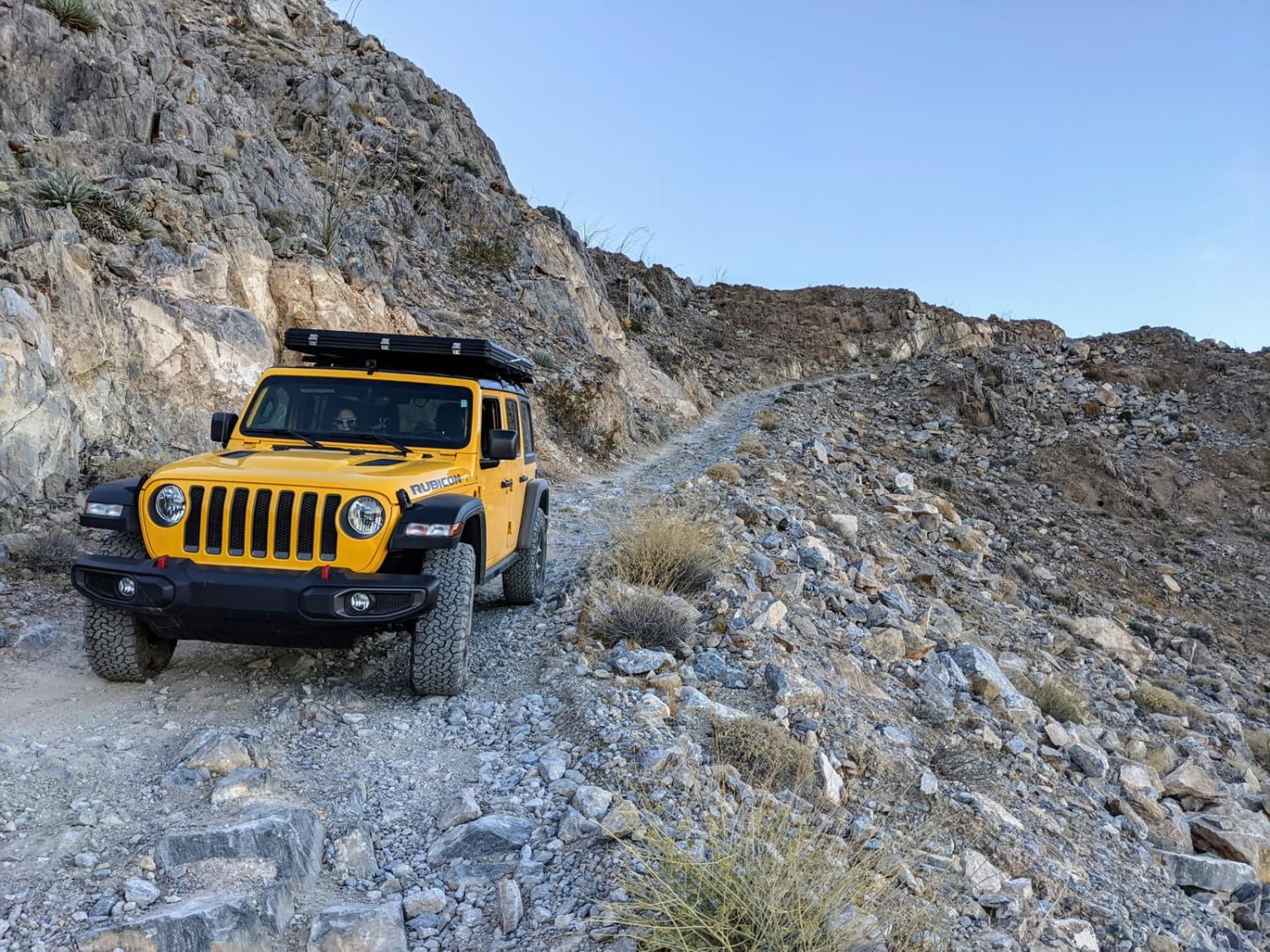 9
Trail Overview
The Carrizo Mountain trail is an out-and-back trip to the top of Carrizo Mountain, which is surrounded by the Coyote Mountains Wilderness Area. The trail starts with a leisurely drive through scenic Painted Gorge Canyon and quickly transitions to a white-knuckle climb along a cliffside road barely wide enough for one vehicle. Those brave enough to tackle this trail will be rewarded with 360-degree views of the Salton Sea, Anza Borrego Wilderness, and even Northern Baja Mexico. The trail ends for all vehicle traffic just short of the summit and requires a quick 1/4 mile scramble to the peak for the best views. The most significant obstacles are several 12-18" ledges and steep cliffs in close proximity to the sometimes narrow trail. There are also many basketball-sized rocks that could encounter vehicle differentials if not negotiated carefully. This trail is subject to closure by the BLM from January 1 to June 30 for bighorn sheep lambing season, so be sure to verify its status before attempting. Due to high summer temperatures and limited shade, this trail is best traveled between October and December. Since a portion of the trail follows a wash through Painted Gorge Canyon, it is not recommended during wet weather due to the risk of flash flooding. The trail can be completed in a stock 4x4 with open differentials providing it is equipped with a High/Low range transfer case. Low tire pressure is also recommended to avoid getting stuck in the soft sand of the wash. There are several unmarked spur routes that do not lead to the summit, so be sure to use your onX Offroad App.
Difficulty
Although this trail is not particularly technical, the consequences of a driving mistake could be severe due to the many steep cliffs and sometimes narrow trail. For this reason, the trail is considered moderately difficult.
History
A silica mine operated at the west end of Painted Gorge Canyon from 1921 to 1922. Many of the roads and trails were likely built to facilitate mining and exploration. The remnants of core sample drilling can still be seen along much of the trail.
Technical Rating