Putz Cemetery and Superior View
Best Time
Spring, Summer, Fall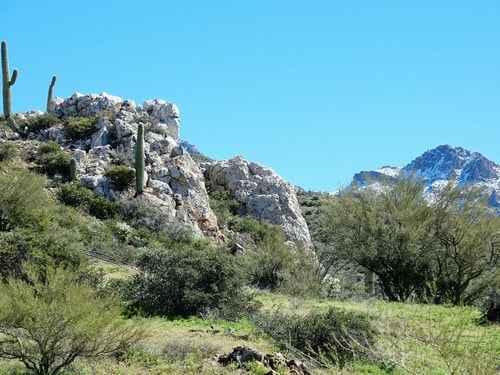 7
Trail Overview
A trail to some historical graves and a fantastic viewpoint. A pretty drive even if you don't care for the history, but we recommend checking the history section below. From US 60, go directly across the road to Silver King Road. You will pass Imerys Perlite USA. They mine and process perlite. They do not allow the public to pick through their perlite piles, but they do have free samples of Apache Tears in the office.Continue to Historic Pinal Cemetery, where you will find Mattie Earp's grave, as well as many more.Return to Silver King Road and drive toward a high viewpoint with great views of Superior and the Superstition Mountains. One area seems to have a high number of saguaros with a high number of arms. There are also a few quartz outcrops along the road.The last quarter mile is the most difficult portion of the road. There is a somewhat tippy washout and a narrow hill. The views are worth it.
Difficulty
Mostly easy track to historical points and lookouts
History
Celia Ann Blaylock was born in 1850 in Wisconsin but raised in Fairfax, Iowa. Apparently, she ran away from home at the age of 16 and made her way to Kansas, stopping first in Scott City and then moving to Dodge City. While touring the west in various employment capacities, Wyatt met "Mattie" either in Fort Scott or Dodge, possibly as early as 1873. By this time, the Earp brothers began to have investments in brothels and gambling parlors. (It is the common theory that Mattie, as well as several of the other Earp brother's wives, was a prostitute.) She was certainly his "common-law" wife by 1879 when they left Dodge for the booming mine town of Tombstone, Arizona.Wyatt developed a relationship with "Sadie" Marcus while in Tombstone, and eventually married her after leaving Mattie.Mattie became devastated when she learned of the relationship and developed an addiction to laudanum, a common painkiller of the day, an opium distillate in liquid form.After the gunfight near the OK Corall, Clanton killers sought revenge, wounding Virgil and murdering Morgan. The Earps left Tombstone. Mattie traveled with the Earp survivors to Colton, California where they joined up with Wyatt's parents. However, at some point, she left them and ended up in Pinal, Arizona (about 1 mile south of the grave site) where she returned to prostitution. She told her friends her husband had destroyed her life when he deserted her. Tragically, she died of a laudanum overdose on July 3, 1888, in Pinal, Arizona.
Technical Rating